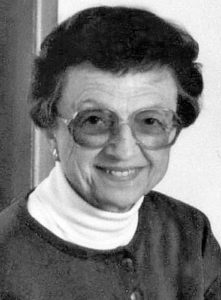 Ruth Elizabeth Paul passed away Jan. 30 at The Aspens Living Center in Hines.
She was born Dec. 31, 1925, to Carl August and Lina Marie Heck in Roseburg. After graduating from high school in Roseburg, she attended Biola Institute and Oregon State University.
On April 7, 1946, she married Walter Grensted Paul in Roseburg. They farmed on South Deer Creek near Roseburg, where their two daughters were born, and they later farmed near Sheridan, before moving to Bend. There, Ruth worked at Bend Senior High School, and Walt worked for the U.S. Forest Service. In 1979, they moved to a new home that Walt built on land purchased near Sisters. Ruth worked part time at the Bank of the Cascades in Sisters, and volunteered at the Sisters Public Library for 20 years and Habitat for Humanity for 10 years. In 2004, they moved to Hines, where Ruth volunteered at the Harney County Library. She and Walt also volunteered at the Harney County Senior Center.
Ruth and Walt enjoyed camping, fishing, and hunting trips. They both also loved gardening. Ruth and her sister-in-law, Vernie Deniston, regularly joined friends on wildflower hikes in the Cascades near Sisters.
Ruth is survived by her husband, Walter Paul; daughters, Nancy Shaw and husband, David of Boise, Idaho, and Annette Denker and husband, Thomas of Ketchum, Idaho.
A memorial will be private. Donations in memory of Ruth Paul may be made to the Alzheimer's Association, Oregon – Greater Idaho Chapter, 1311 NW 21st Ave., Portland, Oregon 97209, or to the charity of your choice.
LaFollette's Chapel in Burns is in charge of arrangements.