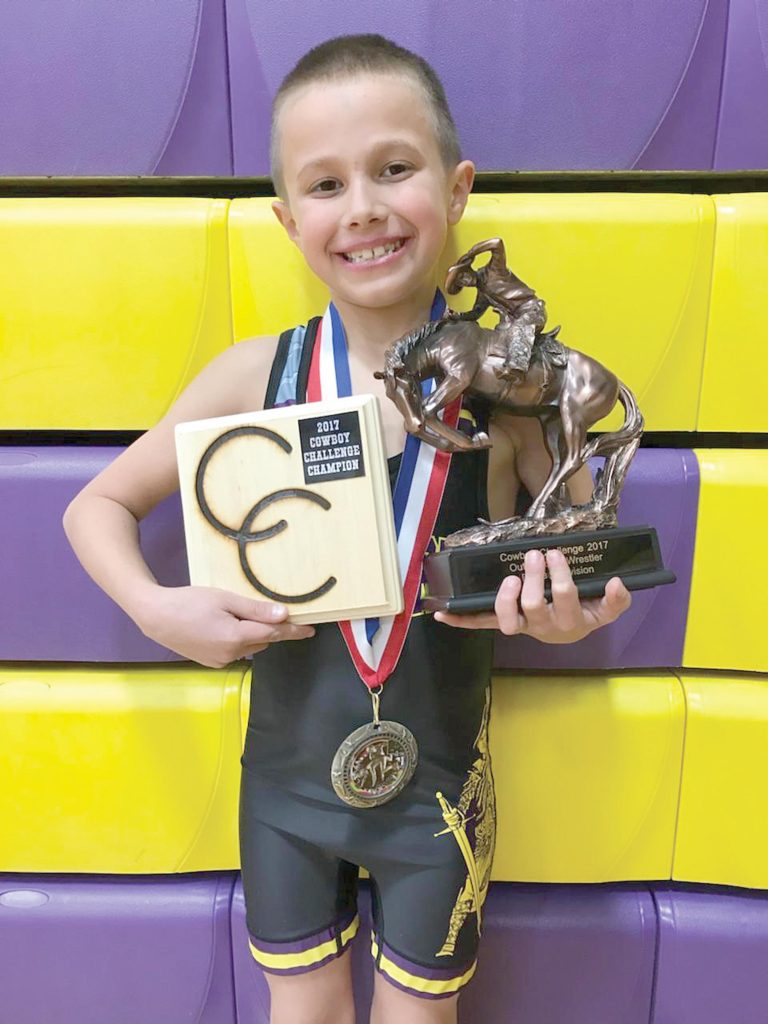 On Dec. 30, the Hi Desert Mat Club participated in the Cowboy Challenge in Prineville. The mat club's Liam Shepherd not only won the 53-pound weight class in the Bantam division, he was also named the Outstanding Wrestler for the Bantam division.
Results for the mat club are as follows:
Peewee
32 lbs. — Dawson Curtis, 1st
36-38 lbs. — Kayson Williams, 2nd
39-41 pounds — Bryer Cornell, 1st; Heyzen Sykes, 2nd
41-43 lbs. — Hayden Cate, 4th
Bantam
43 lbs. — Dylan Hill, 2nd; Ethan Stampke, 3rd
45 lbs. — Ledger Kemper, 3rd
53 lbs. — Liam Shepherd, 1st; Amir Schouviller, 2nd
56 lbs. — Scott Graham, Did not place (DNP)
70 lbs. — John Johnson, DNP
Intermediate
49-53 lbs. — Dallen Johnson, 3rd
59 lbs. — Ryik Simpson, DNP; Hayden Cornell, 2nd
67 lbs. — Owen Kaino, DNP
71 lbs. — Cannon Kemper, 1st
93 lbs. — Jasper SkunkCap, 4th
120+ — Maurice Petersen, 3rd
Novice
70 lbs. — Preston Hill, DNP; Kale Cornell, DNP; Canon Winn, DNP
78 lbs. — Wesley Graham, DNP
86 lbs. — Hazen Johnson, DNP; Orion Houck, 4th
98 lbs. — Easton Kemper, 2nd
Schoolboy
97 lbs. — Corbett Graham, 3rd
110 lbs. — Kevin Peasley, 1st
114 lbs. — Hunter Kemper, 3rd
•••
On Jan. 6, the Hi Desert Mat Club competed in the Classic Qualifier for Central Oregon in Redmond. To qualify for the Oregon Classic on Jan. 14, wrestlers must place in the top three of their bracket. Peewees are not allowed to participate in the Classic, but were able to wrestle in the Qualifier.
Results for the Hi Desert Mat Club are as follows:
Peewee
37-40 lbs. — Heyzen Sykes, 1st
42-44 lbs. — Bryer Cornell, 2nd
Bantam
43 lbs. — Charles Barnes, DNP; Ethan Stampke, 2nd
45 lbs. — Ledger Kemper, 2nd
53 lbs. — Amir Schouviller, 2nd
56 lbs. — Scott Graham, DNP
85 lbs. — Cole Howard, 2nd
Intermediate
53 lbs. — Dallen Johnson, 2nd
59 lbs. — Hayden Cornell, 1st
67 lbs. — Cannon Kemper, 1st
120+ — Maurice Petersen, 2nd
Novice
67 lbs. — Henry Barnes, 3rd
70 lbs. — Kale Cornell, 2nd
78 lbs. — Wesley Graham, DNP
86 lbs. — Orion Houck, 4th; Hazen Johnson, DNP
92 lbs. — Ryland Dupuy, DNP
98 lbs. — Easton Kemper, 2nd
Schoolboy
97 lbs. — Corbett Graham, DNP
98 lbs. — Andrew Barnes, DNP
110 lbs. — Kevin Peasly, 1st
114 lbs. — Hunter Kemper, 2nd
Cadet
88 lbs. — Oliver Barnes, 1st