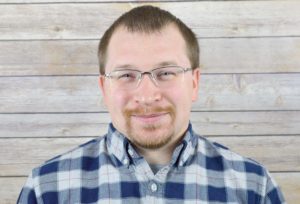 After making the move to Harney County from Walla Walla, Wash., Jordon Bennett said he's "ready to get going" in his new position as Harney County Fair manager.
Bennett was named the new fair manager at the fair board meeting on Nov. 14, and was to begin work on Monday, Dec. 11.
Bennett replaces Rick Paul, who served as interim fair manager for the past two years.
Bennett was born in Portland, and spent his growing years in The Dalles, Pendleton, and Walla Walla, where he graduated from DeSales High School in 2005. He went on to Eastern Washington University (EWU) in Cheney, Wash., where he earned his bachelor's degree in business administration. He also completed the required number of credits for a master's degree, but has yet to complete his thesis. Bennett also served an internship in the EWU  fundraising department while in graduate school, and then worked for a year as assistant ticket manager for the Eagle Athletic Association at EWU.
From there, Bennett went to work as assistant box office manager for TicketsWest in Spokane, Wash., where he helped with a number of events such as Comic-Con, concerts, golf shows, and Broadway performances.
Bennett then moved to a position with the WorkSource program in Walla Walla. While there, he noticed the listing for the Harney County fair manager position. He said he missed the excitement of the crowds and entertainment he experienced while with TicketsWest, and that's what prompted the decision to apply for the fair manager position.
Bennett and his wife, Erin, and their two children, Max, 3, and Riley, 1, made the move to Harney County, and are busy getting settled into the area.
Bennett said he's excited about the possibilities for the fairgrounds, including an indoor arena, and what it could mean for Eastern Oregon.
"My family and I are excited to be here," Bennett said. "And I'm looking forward to getting out into the community, meeting people, and seeing what's out there."