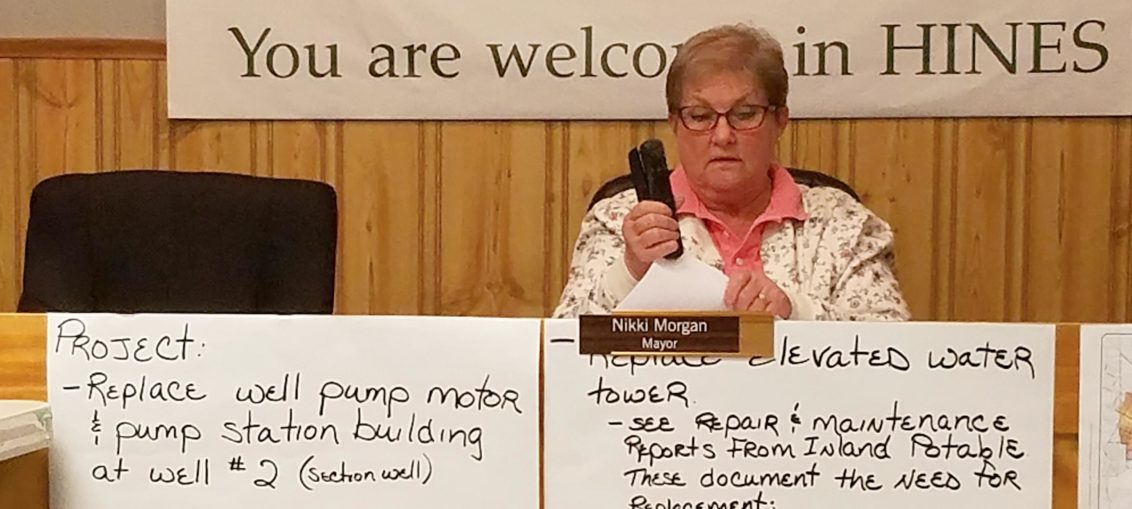 by Lindy Williams
Burns Times-Herald
On Tuesday, Oct. 10, at 6:30 p.m., the Hines Common Council held their regularly scheduled meeting at Hines City Hall.
The council collectively voiced their disappointment over City Administrator Judy Erwin's report of the state's decision to disperse tax money collected from marijuana sales to every city, not just the cities who opted in to allow marijuana to be sold within city limits.
"It's basically because the state of Oregon didn't keep track of who opted in and who opted out, so it's just easier to give it to everyone," Erwin stated.
The council expressed further disappointment at Erwin's report of the state's decision to release the money based on per capita numbers, meaning that Hines only receives about $4,400 of the $85 million that Oregon received in marijuana tax.
"Going forward, it'll still be based on population, but it will also be based on the number of licenses and sales," Erwin stated.
"We will get three percent of anything sold locally," Erwin said.
Councilor Diane Rapaport asked if there was any way that they could protest the state's decision, and City Administrator Erwin answered that there wasn't. Police Chief Ryan DeLange stated that she could write her congressmen and Erwin agreed.
Erwin also stated that the city would be holding  free yard debris and leaf Dumpsters days Nov. 10-12, and Nov. 17-19.
Additionally, Erwin reported that she had attended an economic development meeting and had met Greg Smith, the new economic development director. She stated that she was very impressed and thought he would be good for Harney County.
Erwin stated that Hines received the same Gold Safety award that Burns had received from the League of Oregon Cities annual conference.
•••
Police Chief DeLange reported that major crimes had been called out to a major assault that included a kidnapping, a firearm being discharged within a house, a crashed vehicle, and drugs. He stated that the investigation was still ongoing.
DeLange reported that, while on a rape case, Officer Roxane Ellis had executed a search warrant and found a "larger than usual amount of methamphetamine." Officer Ellis is still involved in that case.
DeLange then reported that a car had been reported stolen, but the car had been found and a woman jailed.
He stated that Officer Marc Novak had been writing a high number of tickets.
"He's writing a lot of them for suspended drivers, speeding, truck speeding, he's getting anybody and everybody," DeLange stated.
Additionally, DeLange stated that the county and Oregon State Police had been dealing with a high amount of vehicle crashes on all of the highways.
"I think speed is probably a factor in them," he stated.
DeLange noted that he was upset with the state's marijuana tax decision as well.
•••
The council then entered a lengthy discussion with Brandon Mahon of Anderson Perry & Associates and members of the community concerning the upcoming water rate study. The council had prepared posterboards with basic plan information and repairs printed on them.
"I do want to say, whatever decision we make is going to impact the future. The future councils, the future decisions they have to make, the future of Hines. We've had to come and deal with some pretty severe ones that they just kind of pushed off in the past for whatever reason. We don't want to do that to the future councils. So, whatever decision you make, really think hard about it," Mayor Nikki Morgan stated to the council.
Councilor Robert Beers asked if there was any way that the city could set up an account for future councils and the repairs they would need to make in the years to come.
Erwin replied that there was already an account set up for that, but nobody had ever deposited anything into it.
It was also suggested by Erwin that the city begin raising water rates slowly and incrementally to avoid a sudden, steep upshot in costs for the citizens of Hines. She also suggested that they change the billing cycle to monthly instead of bi-monthly.
"If you have any misgivings about going forward with the whole thing, I invite you all to come look at the files in my office about previous studies that were done and recommendations that were made that they never followed through with because of costs, and how, compared to now, how much cheaper it was back then. And it's not going to do the community any service to shoot it down the road again for another 20 years and the cost it's going to be then," Erwin stated.
Erwin encouraged anyone who had questions about their new projected water bill to come in to Hines City Hall with their old water bill. She stated that she could put the numbers into a spreadsheet that would produce their new expected rate.
•••
In other business, the council:
• approved a Comprehensive Plan amendment recommendation from the Planning Commission and Ordinance No. 316;
• approved a business license application for Tex Ward –– Residential Remodeling;
• approved a business license application for Grocery Outlet;
• approved a business license application for Sasquatch Cooling, Heating & Appliance Repair;
• approved a donation request for Harney Partners for Kids for Red Ribbon Week. The council agreed to donate $100;
• approved a $100 donation request from Harney Hope-Healthy Teen Relationship Project;
• heard a report from Fire Chief Bob Spence. Spence stated that the department had gone on three 911 calls, one being a false alarm, a vehicle accident, and someone burning plastic. Spence also stated that the department had been training, and that they planned on being at the upcoming Hilander football game to hand out fire prevention materials;
• heard from Dustin Beers, who recently attended a Junior Police Academy program. The council congratulated him on graduating.
The next Hines Common Council meeting will be held on Tuesday, Nov. 14, at 6:30 p.m.