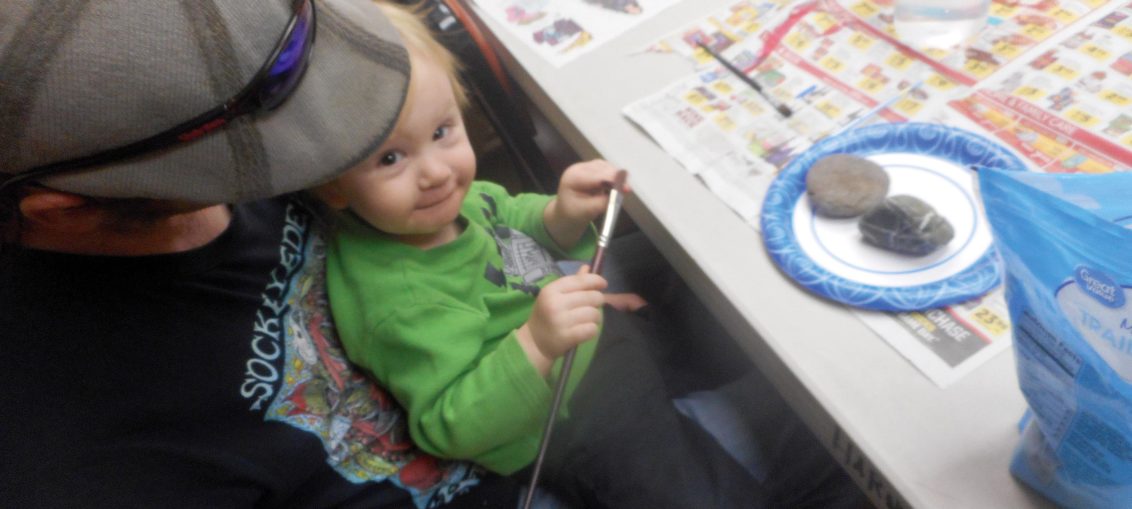 by MJ Wallis
for the Burns Times-Herald
The Harney County Arts and Crafts Association (HCACA) hosted a "Kindness Rocks" workshop on Saturday, Sept. 30, at the basement meeting room of the Harney County Courthouse. More than a dozen interested people of all ages and artistic abilities met to kick off our own version of the grassroots movement that is rocking around the world.
The idea is to paint designs, pictures, or positive quotes on smallish rocks, then set the chunks of encouragements out in public places around the county in treasure-hunt style hide-and-seek. Whoever finds a Kindness Rock then goes to the "Harney County Kindness Rocks" Facebook page, posts a picture of the found rock and what it meant to them, then hides the rock for someone else to discover. It's like an ongoing Easter egg hunt without the chocolate overdose. Health note: Do not attempt to eat the rocks. There is no chocolate involved. We tried — acrylic paint is not chocolate flavored, and rocks just taste rocky.
Megan Murphy began the Kindness Rocks Project in 2014 as a way to spread random acts of kindness along her home beach in Cape Cod, Mass. It all began when she took five rocks, wrote inspiring words on them with a Sharpie pen, and scattered them on the beach. A friend of hers found one and called Murphy to relate what she'd found and how the words on the rock changed her day for the better. Murphy knew she'd hit on something important. In three years, the inspiration has touched thousands of lives and started a "Rocks" movement rolling across the USA, Canada, and around the world.
"The popularity of rock art has helped people discover wellness through painting and drawing," reported Keri Cunningham, senior director of marketing and research for the Association for Creative Industries. "Individuals who may not consider themselves artistic are using rocks as their canvas to convey happy messages to friends and strangers; and by doing so, they are experiencing the intrinsic benefits of being creative." (ACIprweb.comrelease20170727)
So join in and spread the cheer. For further information, call Lisa Blake at 541-573-2433.