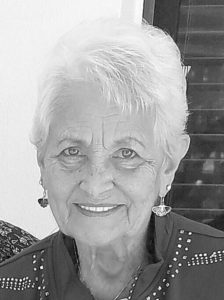 Vernamae "Tootie"  Z. Enquist, 76, of 5 Cherokee Trail Naples, Fla., passed away July 31 at U.P. Health System-Marquette while in the loving care of her family and U.P. Home Health and Hospice.
Vernamae was born April 30, 1941, to the late James Michaud and the late Maria Todish Cote in Iron Mountain, Mich. She lived in Burns through her school years and started her family. She moved about the country before settling in Everglades City, Fla., and was currently residing in Naples, Fla.
She was a member of the Elks club of Naples, the American Legion Auxiliary post No. 114 of Greenwood location, the Eastern Star, the Restaurant Foundation and the Lions Club. Vernamae enjoyed sewing, entertaining, especially hosting dinner parties, she loved to dance, travel, adventures, gardening, cooking, and enjoyed making people happy.
Vernamae is survived by her children, Linda Secker, Teenie (Terry) Zash, Kim Bozzard, De Anna (Dempsey) Mixon, and Sherri (Jeff) Nelson; brother, Jim (Kathy) Michaud; sister, Joan (Steven) LeClair; and brothers, John (Bonnie) Michaud, and George Glerup; 10 grandchildren, nine great-grandchildren; along with several nieces, nephews, and cousins.
She was preceded in death by her parents, and husband, Harold G. Enquist.
A celebration of Vernamae's life will be announced to take place in the spring of 2018 in Naples, and in Ishpeming, Mich., in the summer of 2018.
Interment will take place in the Ishpeming Cemetery.
Vernamae's obituary may also be viewed at bjorkandzhulkie.com where relatives and friends may leave a note of remembrance.
SaveSave