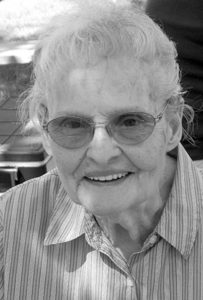 Ruth Holmes, 90, passed away July 1 at the Blue Mountain Care Center in Prairie City.
Ruth was born Dec. 13, 1926, in Mt. Vernon at the Fletcher Ranch to George and Mae Belle Hammons (Fletcher). She grew up and attended school in Mt. Vernon through the 10th grade. Ruth quit school to go to work and help with family finances. The family moved to Burns in 1939.
In 1942, Ruth and her sister, Diddy, traveled by bus to Los Angeles to find jobs. They worked at a restaurant for three months and returned home to Burns due to an illness in the family.
On May 7, 1945, Ruth married Merrill V. Anderson in Coeur d'Alene, Idaho.
Ruth worked as a cook at various cafes in Burns, including The Palace, Elkhorn, and Arrowhead. She also cooked at the Wounded Buffalo in Mt. Vernon.  In the early 1970s, Ruth and her sister, Babs, ran the Town Tavern in Stevenson, Wash. In 1977, she opened the Wagon Wheel Café in Mt. Vernon. Around the mid-to-late-1990s, Ruth and her sisters, Babs and Diddy, ran the Wagon Wheel Tavern in Mt. Vernon.
Ruth is survived by her daughter, Phyllis Propeck (Dan) of Mt. Vernon; son, Val Anderson of Hines; seven grandchildren; and 15 great-grandchildren.
Ruth was preceded in death by daughters, Sheri Lemrick (Jack) and Marilyn Francis (Jerry); parents, George Hammons (1934) and Mae Bell Hammons (1982); brothers, Joe David Hammons (1935), Harlan Hammons (1949), Richard Hammons (2005), and George (Perk) Hammons (2014); sisters, Roberta (Babs) Hammons (2008), Della (Diddy) Steele (2011), Norma Fry (2014), Violet Yarber (2015); and grandson, Andy Lemrick (1980).
A memorial service was held July 7 at the John Day Golf Club in John Day. Ruth's ashes will be interred at a later date at the Burns Cemetery.
For those who would like to make a donation in memory of Ruth, the family suggests Home Health/Hospice through Tami's Pine Valley Funeral Home & Cremation Services, P.O. Box 543 Halfway, OR 97834. Online condolences may be shared at www.tamispinevalleyfuneralhome.com
SaveSave
SaveSave