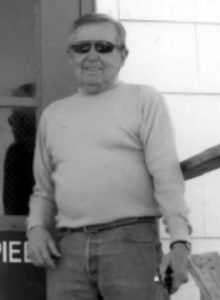 Richard Elmer (Dick) Tantare, 81, passed away June 2, in Bend, where he had lived since 1974. Dick passed away peacefully after a fierce battle with lung and heart disease.
He was born Dec. 4, 1935, in Aberdeen, Wash., to Elmer and Sigrid Tantare. He enlisted in the U.S. Air Force after graduating in 1953 from Ocasta High School in Westport, Wash. He served 20 years in the Air Force and retired as a Senior Master Sergeant-E8 Loadmaster.
He loved airplanes and all branches of the Armed Forces. Dick traveled and lived near and afar. He was in Alamogordo, N.M. working on the rocket defense systems in the early 1960s, and then flew on C-141s out of McCord. The Vietnam War led him and his family to Guam in 1969, where he worked with the best Air Rescue squadron in the South Pacific. He was then stationed in Columbus, Ohio, and Alexandria, La., before retiring in Bend with his family.
Dick was a kind, outspoken and intelligent man.   He was committed to the well-being and care of his wife, Roxie. He was active in the Bend Trap Club as an officer and longtime member. He was a decorated shooter and friend to all.  He loved his family, the desert, his politics, and the Oregon Ducks. His Finnish family roots and ties extended from British Columbia, Aberdeen, Brookings, Burns, and beyond.
Dick is survived by his second wife of 30 years, Amy Roxanna of Bend; sister, Janet Gilinsky of Vista, Calif.; children, Ken Tantare of Portland, Lori Anton of Bend and their spouses; grandchildren, Nathan and Lindsey Westfall who both serve in the military, and Sarah and Julia Tantare.
Contributions may be made to VFW Post 1643 in Bend.