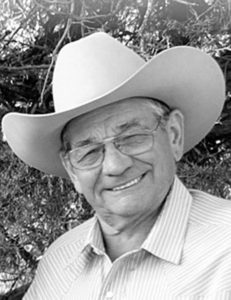 Robert E. (Bob) Miller Jr., 77, passed away June 7, after a brave battle with cancer.
Born April 21, 1940, in Ashland to Robert E. Miller Sr. and Goldie Miller, Bob grew up as a fourth-generation Jackson/Siskiyou county rancher. His great-grandparents first settled near Willow Creek mountain outside of Montague in Siskiyou County, and Goldie's father, Louie Miller, homesteaded on the Box O Ranch off Highway 66 near the California-Oregon border. By 1940, his parents had a small dairy, that later included beef cattle, near Ashland in Jackson County during his school years.
Growing up, Bob was known for his rifle marksmanship abilities and placed well in shooting competitions, as well as participating in the Boy Scout program. After graduating from Ashland High School, he went on to complete a four-year degree in animal husbandry at Oregon State University (OSU). He married Vicki Morley in 1962, and after graduating from OSU, they ranched with Bob Sr., Goldie, and Bob's younger sister, Ellin, on the Box O Ranch and the family's Camp Creek Ranch near Irongate Lake for several years. Daughter Tara was born in 1963 when they lived on the Box O Ranch.  Bob Sr. was also raising Appaloosa horses at that time, and Bob broke and trained horses and enjoyed competing in local stock horse and penning events, as well as having a real estate license for several years while he was running cattle with his folks.
In 1968, Bob was hired as an OSU county extension agent in Burns, and the family lived there for four years. He enjoyed the job and the lasting friendships made in Eastern Oregon, but in 1972, the opportunity to lease Beswick Ranch on the Klamath River just above Copco Lake came about, and he decided to move back home and start his own cow/calf operation, raising commercial Simmental cross cattle. The ranch grew to include other private leases around Copco and Irongate lakes where his folks had been ranching, as well as the Soda Mountain BLM permit that had been in the family since his grandparents ran cattle there. Bob met his soul mate, Patricia Ann Cook of Montague, later in life, and they were happily married in 1979 in a meadow ceremony at Beswick Ranch. Bob and Pat expanded the operation in 1980 to include a hay ranch near Montague, and their son, Brian, was born in 1981, but was tragically lost in a car accident when he was 16. After running the hay ranch for some six years, Bob and Pat moved back to Beswick Ranch on the river and continued the cattle operation there until 2004 when they moved to Hornbrook, Calif., to be near his mom, Goldie. Bob semi-retired at that time by leasing out the cow herd, but remained active in the cattle management, helping his daughter and son-in-law gather and work their cattle, and dedicated himself to improving the pasture and irrigation system at the Hornbrook property. He truly had a gift for designing and implementing a variety of ranch improvements, including irrigation, construction, fencing, equipment, and fabrication-type projects, and he really enjoyed completing projects for practical uses. As a graduate of the Graham School for Cattleman in the mid-1970s, he did all the pregnancy checking on their own cow herd, and he was an accomplished horseman who appreciated training and riding good ranch horses.
Bob was a life-long NRA member and avid hunter who always enjoyed deer and elk hunting as well as fishing. He and Pat had time to travel in recent years on various hunting and fishing trips, including a guided caribou hunt in Canada that was a highlight. Bob also cared about the communities he lived in, believed in volunteerism, and dedicated many hours of his time in having a strong voice for supporting private property and grazing rights for our rural areas and the ranching industry. He was a 4-H horse leader; a founding member and past president of the Siskiyou County Sportsman's Association; served a term on the Siskiyou County Cattlemen's board; member of the Hornbrook Grange and water board; and was honored as the 2005 Jackson County Cattleman of the Year as he had been actively involved with that organization for many years, and also served as a regional vice-president and committee chair for the Oregon Cattlemen's Association.
He is survived by his wife, Pat Miller of Hornbrook, Calif.; daughter and son-in-law, Tara and Chet Porterfield of Macdoel, Calif.; grandaughters, Kady Porterfield of Selah, Wash., and Kara Porterfield of San Luis Obispo, Calif.; sister and brother-in-law, Ellin and Bill Spearin of Sweet, Idaho; sister-in-law, Kathy Hansen (Vernon) of Lodi, Calif.; brothers-in-law, Bill Cook (Linda) of Stockton, Calif., and Bob Cook (Denise) of Montague; nephews, Tom Spearin (Amanda) of Boise, Idaho, Garret Hansen (Sarah) and Ryan Hansen (Jessica) of Lodi, Tom Cook (Jody) of Lodi, and Patrick Cook of Andover, Kan.; nieces, Kimberly Merenda of Stockton, Amy Cook (Ryan Berthold) of Hilo, Hawaii, Emily Cook of San Jose, Calif., Amanda Cook (Alex Lehman) of Washington, D.C.; plus 11 grand-nephews and nieces.
Bob was preceded in death by his father, Robert E. Miller Sr.; mother, Goldie Miller; and son, Brian Lee Miller.
A friends and family visitation will be held from 6 p.m. until 7 p.m. Friday, June 16, at Girdner's Funeral Chapel, 202 S. Oregon St., Yreka, Calif. A graveside service will be at 11 a.m. Saturday, June 17, at the Henley-Hornbrook Cemetery in Hornbrook, Calif., immediately followed by a celebration of life gathering at the Montague Community Hall, 200 S. 11th Street, Montague, Calif. Lunch will be provided, but if you would like, please bring a salad or dessert to share.
In lieu of flowers, the family requests donations to United Scholarships Inc. for the Brian Miller Memorial Scholarship fund, P.O. Box 1328, Yreka, CA 96097-1328; or to Madrone Hospice, 255 Collier Circle, Yreka, CA 96097, or to a charity of your choice.