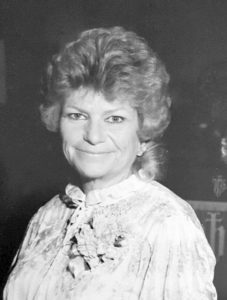 Dorthy "Dot" Opie Skinner, 75, of Crane, passed away May 1.
Dot was born July 6, 1941, in Mesa, Ariz. to Henry and Gertrude Thompson Opie. She was the youngest of 13 siblings. She had lost both of her parents by the time she was 5 years old. For the next few years of her life, she and her younger siblings were raised by their older siblings which took her to Lehi and Oracle, Ariz., Florida and Washington state. When her brother, Dan Opie, settled in Harney County in Venator, the youngest four siblings soon followed. Dot attended seventh and eighth grades at Lawen.  She attended high school at Crane Union High School and graduated with eight other classmates in 1960.
Dot graduated from Royal Beauty Academy in Mesa, Ariz. She married Donald Skinner in 1966 for a short time. They had a daughter, Amy, and a son, Brian.
Dot returned to Harney County Oregon in the 1970s. She was employed for 11 years at the Crane Elementary School as a teacher's aide, where she was known for her lavish bulletin boards. One of her favorite times was Show and Tell in the first and second grades. After her own children graduated, Dot was offered the position of matron at the Crane dormitory where she worked for 13 years. She enjoyed the interactions she had with the boys and girls there and cared for all of them. She retired in 2003.
Dot enjoyed many activities, including yard work, especially her flowers, quilting, sewing kids' clothing, all kinds of arts and crafts, and reading.  Most of all, she enjoyed her family. She loved the holidays, birthdays, graduations, weddings, or a sporting event. She loved living in Crane with her extended family, many friends and neighbors.
Dot is survived by her daughter, Amy (Darwin) Armstrong  of Carlin, Nev.; son, Brian (Shawna) Opie of Union; sister, Mary Maupin of  Seattle, Wash.; brother, Delbert Opie of Mesa, Ariz.; six grandchildren, Clay (Jamie) Armstrong of Montpelier, Idaho, Chance (Mary) of Lamoille, Nev., Whitney Jean Armstrong of Carlin, Nev., Kade Armstrong of Carlin, Nev., Koben Opie of Union, Wyatt Dalton Opie of Laramie, Wyo.; three great-grandchildren, Luke, Olivia, and Carter Armstrong; and numerous nieces and nephews and extended family members.
Dot was preceded in death by her parents and 10 siblings.
A service was held at the L.D.S. Chapel in Crane, Friday May 5, followed by a burial at the Burns Cemetery.
Contributions in her memory may be made to the Crane Union High School athletics, with Dorthy Skinner in the memo line.