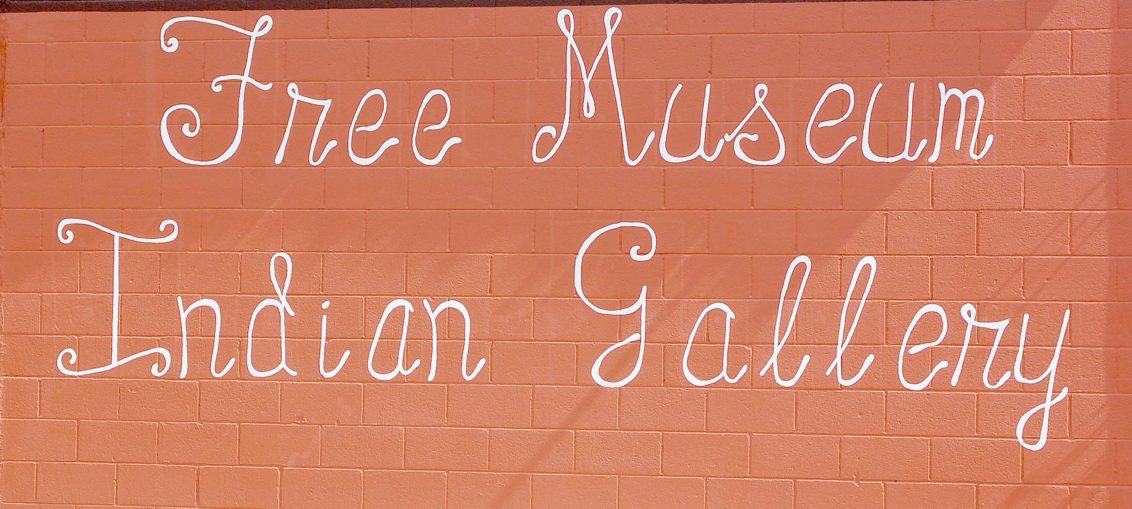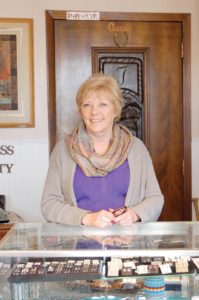 If you travel east from Burns on Highway 20, you're bound to discover Oard's Gallery in Buchanan.
"We're the center of the action," owner Sheila Oard said, explaining that the gallery is located 23 miles from Burns, 22 miles from Drewsey, and 18 miles from Crane.
In addition to art and jewelery, the broad-based business boasts a service station, mini mart, and free museum. Oard's is also the only business that offers gasoline and diesel along the 90-plus-mile stretch of highway between Burns and Harper.
"We get a lot of tourists in the summer," Sheila said, adding that many of the gallery's visitors hail from foreign countries. "We have a guest book, and it's amazing how many people are not from the United States that visit here."
Sheila said the business also receives a lot of local traffic, and she tries to stock the shelves with necessities so that folks from Drewsey won't have to drive all the way to Burns.
"Some people call us the mall," she said with a laugh.
A brief history
The business has been in the Oard family for 135 years and three generations.
The site of the business was originally established as a stagecoach stop by George Buchanan.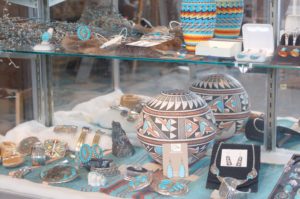 After purchasing the site, Sheila's grandparents, Jimmy and Clara  (Kesterson) Oard, built a wooden building and ran a small business and gas station. (Prior to establishing the business in Buchanan, Jimmy, who was born in Lawen in 1896, and Clara, who was born in Burns in 1900, ran an automotive and blacksmithing business in Drewsey.)
Unfortunately, the rationing of gas during Word War II made it impossible for Jimmy and Clara to make a living at their shop in Buchanan. Thus, they decided to move to Crane where Jimmy worked as a janitor at the high school from 1942-1964.
When Jimmy retired, he and Clara moved back to Buchanan and built a new, brick building to replace the original, wooden structure, which burned down.
"He rebuilt this, the brick building, while my mom and dad were going to college in California, so when they got through with their education, then they would have a place to come back to," Sheila said.
High school sweethearts at Crane Union High School, Richard and Mavis (Dunn) Oard were married in 1946 while Richard was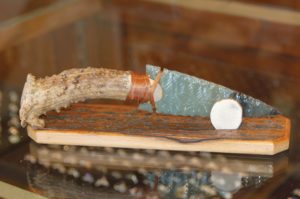 serving in the Navy and taking college courses. Richard earned degrees in mechanical and electrical engineering from West Coast University in Los Angeles, Calif., before moving to Buchanan with Mavis in 1947 to take over the family business.
Richard added a farm equipment dealership and parts department, and Jimmy worked as the parts department manager.
Through his dealership, Richard became an advisor for Kuhn.
"Kuhn was a big agricultural company, but they were from France, and so they didn't know anything about mowing down this
wild hay that's around here, so they sent Dad [Richard] back and forward to France all the time to counsel them on the changes they need to make on their equipment," Sheila said. "In the meantime, Mom [Mavis] started the jewelry store. So with him [Richard] doing his equipment, and her [Mavis] doing her jewelery, they were smokin'! They were hot!"
As the business heated up, the building was expanded to accommodate increased inventory.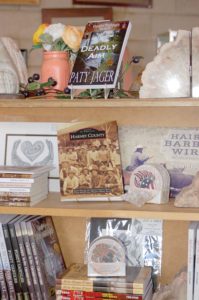 Richard and Mavis also built a motel. However, it had to be torn down after it was hit by a semi truck five or six years ago.
Sheila grew up in Harney County, but moved to Portland to attend college.
"In my other life, I'm an R.N. [registered nurse]," she said. "Then when Mom passed away, I came back to run the business. I still have my license, but I haven't been practicing since she passed away."
An array of inventory
An extensive assortment of Native American art — such as jewelry, sand paintings, and pottery — can be purchased at Oard's Gallery.
In fact, Sheila said, "We have nine tribes' art represented here."
Sheila travels to Albuquerque, N.M. at least once or twice a year to purchase pieces directly from Native American artists who are mostly Navajo and Zuni.
Included among the gallery's inventory are pieces crafted by famous Zuni artists Dennis and Nancy Edaakie.
Sheila purchases art and jewelery through the Indian Arts and Crafts Association, which was established in 1974 "to promote, preserve and protect authentic American Indian arts and crafts."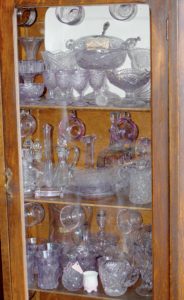 Regarding the association, Sheila said, "They regulate the authenticity of the jewelery, of the art, period."
Sheila also purchases and sells items crafted by members of the Burns Paiute Tribe, and said that their bead work is a hot commodity.
The gallery also carries an array of pieces produced by other local artists, including juniper furniture, obsidian knives, and copper jewelry. Books written by local authors, such as Paty Jager of Princeton, can also be found in the gallery's inventory.
A multitude of other items — including rugs, lamps, local rocks, and some estate and pawned pieces — can be purchased from the gallery, as well.
Free museum
Oard's also features a free museum, which includes items collected from some of Harney County's would-be settlers.
Sheila explained that people would come to the area and attempt to setup homesteads. However, due to harsh environmental conditions, they were often forced to move on, leaving some of their belongings behind.
"The people would come thinking that they would set up a homestead, and then they couldn't, so they would dig root cellars and put their things inside of the root cellar. And, of course, then they didn't come back," Sheila said, adding that local ranchers have discovered the root cellars while working their land. "They'll stumble upon these root cellars and find all this fabulous stuff in it, along with the rattlesnakes. So they've brought in a lot."
The museum also features items that Mavis collected when she and Richard traveled to Europe to provide consultation services for the Kuhn company.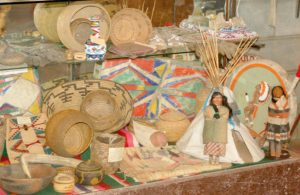 Some of Mavis' treasures include antique clocks, furniture, medicine bottles, and doorknobs, as well as purple glass from France. Sheila explained that the glass' magnesium content causes it to turn purple when it's exposed to sunlight.
There is also a special section devoted to displaying items collected from members of the local Paiute tribe. The display includes a collection of 75 cradle boards.
"A lot of them are the antique ones, and some of them are like 80-some years old," Sheila said.
The collection includes cradle boards used by each of Marion Louie's five children.
Oard's Service
Although the dealership portion of the business is no longer active, Oard's Service continues to offer vehicle and equipment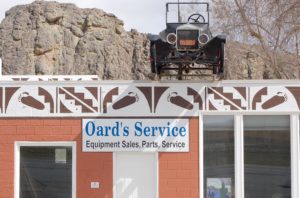 repairs. The service station's mechanic, Tom Whipple, has been with the business for 17 years.
Regarding the service station, Sheila said, "We have the lowest rate of anybody around here."
Open seven days a week
Located at 42456 Highway 20 East, Oard's Gallery is open from 8 a.m. until 6 p.m. everyday, except Christmas.
Sheila is in the process of setting up a website for the business. However, in the meantime, shoppers can view some of the gallery's inventory by visiting its Facebook page at https://www.facebook.com/oardsgallery/
"If you find something you like on [the Facebook page], all you have to do is give me a call, and I can mail it to you," Sheila said.
The gallery's phone number is 541-493-2535.