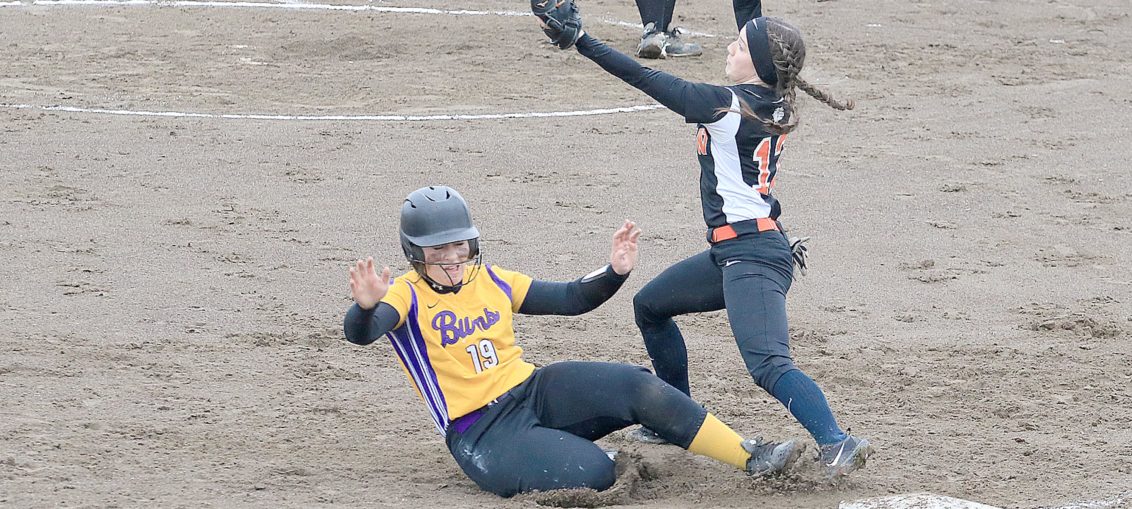 The Burns softball team  took part in the Riverside Round Robin Tournament March 28-29, and came away with a 3-1 record in their four games.
Trailing 6-5 in the seventh inning of their opening game against Knappa, the Hilanders scored a run in their half of the inning to tie the game and then pushed the winning run across home plate in the eighth inning for a 7-6 victory.
Ally Sutcliffe pitched a complete game and picked up the win. She gave up six runs, four earned, with 12 strike outs and seven walks.
The Hilanders banged out 15 hits, led by AJ Sutcliffe with four hits and an RBI. Al. Sutcliffe added three hits and a pair of RBIs, and Shai Skinner had three hits and drove in one run. Cassie Patterson and Mileah Skunkcap finished with two hits apiece.
•••
In their second game of the day, Burns jumped out to a 7-0 lead after three innings and held on for an 8-5 win over Irrigon. Al. Sutcliffe had a pair of hits and drove in two runs, and Grace Johnston added a pair of hits and scored twice. Shealyne Peasley had one hit and three RBIs.
Al. Sutcliffe surrendered three earned runs over seven innings while striking out six and walking three.
•••
Burns opened the second day of the tournament with a convincing 14-3 victory over Willamina.
The Hilanders took an early lead with three runs in the first, but the Bulldogs came back to tie the game with three runs in the third.
Burns broke the game open with an 11-run fourth inning and went on to pick up the win in five innings.
Morgan Cooley recorded three hits and one RBI, while Al. Sutcliffe and Skunkcap each drove in three runs.
Al. Sutcliffe pitched three innings and gave up three earned runs on five hits with four walks and three strike outs.
AJ Sutcliffe pitched the final two innings and didn't give up a hit. She walked three and struck out two.
•••
In their final game of the tournament, Burns lost to Riverside/Arlington by an 8-4 score.
After Riverside plated three runs in the first inning, the Hilanders put a pair of runs on the scoreboard in the third.
The Pirates then took a 6-2 lead with three runs in the fourth.
The Hilanders cut into the lead with a run in the fifth, only to see Riverside score twice in the sixth.
Burns then added a solo run in the seventh for the final margin.
Al. Sutcliffe took the loss, giving up eight earned runs on nine hits over six innings. She walked five and struck out 10.
Johnston, AJ Sutcliffe, and Cassidy Reid each had two hits for Burns, and AJ Sutcliffe led the team in RBIs with two.
The Hilanders will host Echo/Stanfield on Friday, April 7, at Corbett Memorial Field. The doubleheader will begin at 1 p.m.