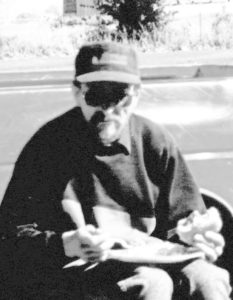 Larry Lee Hoffelmeyer passed away of natural causes on March 9 at his home.
Larry was born March 29, 1949, in La Grande to Carl Hoffelmeyer and Alice May (Becker) Hoffelmeyer.
As a child, Larry was raised in Cove, later moving to La Grande. He was an outdoor type of kid, and he was also riding motorcycles or working on a vehicle of the same type. During the winter, he and other kids could be seen sledding on an old car hood.
As he grew up, Larry was always known as the man who could do anything he put his mind to. He was known for his excellent cabinet making, he could build guns with beautiful pearl inlays, and he was an amazing mechanic and body repair man, often seen building parts as needed.
Larry later moved to Burns for work and to be closer to his nephew, Jerry Needham, and he held many jobs. Larry worked for the Harney County Senior Center for many years, doing weatherization. He also worked at many of the auto repair shops in Burns, ending his working career at Burns Ford. If he wasn't fishing with his buddies, he could often be found at Bob's Seldom Inn or the Central Pastime with his many friends. Larry was a very skilled man and will be missed by family and friends.
Larry is survived by his half-brother, Garrld; and many nieces, nephews, great-nieces, great-nephews, and numerous friends.
He was preceded in death by his mother and father; and three half-sisters, Marie, Ike, and Bettie.
A service will be held from 10 a.m. until 2 p.m. Saturday, April 22, at the Central Pastime. As Larry would say, "Trink ein bier fur mich."
Donations to help defray expenses may be made to Darlene Needham, in care of LaFollette's Chapel, P.O. Box 488, Burns, OR 97720.