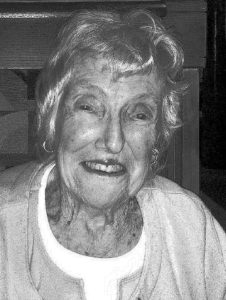 Ervene Morgan, 93, passed away Jan. 8.
She was born in Denio, the fifth of seven children of Irwin "Mustang" and Marie Smith.
Ervene had three children, Kaye Stinnett, Todd Morgan of Turlock, Calif., and Mark Morgan of Shingle Springs, Calif.; 11 grandchildren; and 10 great-grandchildren.
She was preceded in death by her husband, James Donald  "Don" Morgan; daughter, Katheryn "Kaye" Morgan Stinnett; and siblings, Barbara Hattendorf, Helen Felt, Vern Smith, Katherine "Dixie" Weikel, Earl "Bud" Smith, and Milo Smith.
A funeral service will be held at 1 p.m. Saturday, Jan. 14, at  LaFollette's Chapel in Burns.
In lieu of flowers, the family requests that donations be made to the American Cancer Society or the charity of the donor's choice.