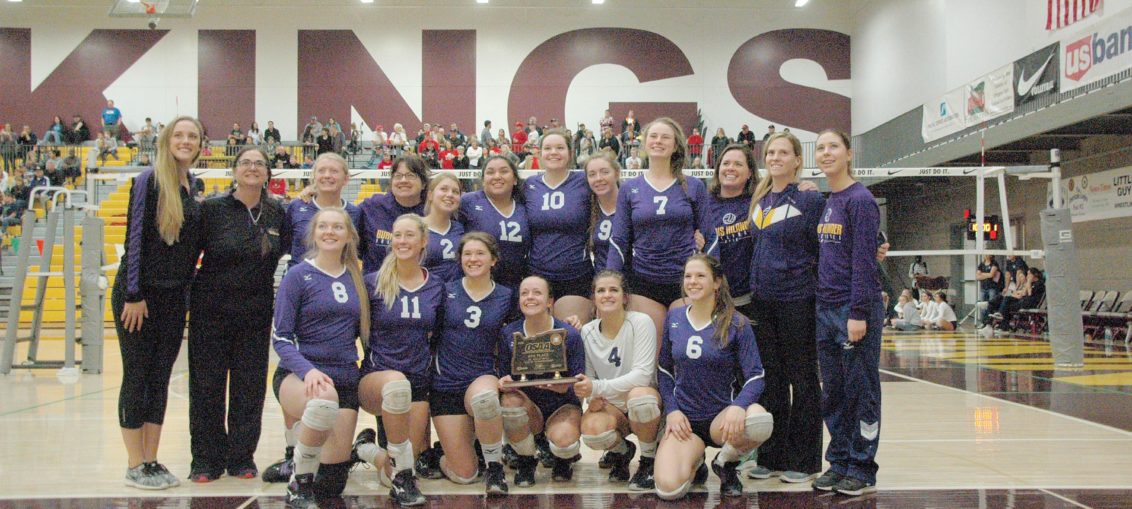 Mike Weber
for the Burns Times-Herald
The Burns Hilanders came into the OSAA/U.S. Bank/Les Schwab Tires Class 3A volleyball state tournament with lots of confidence, with aspirations of hopefully winning a third consecutive state championship.
Although the two-time defending Class 2A champions were competing in a higher OSAA classification level this season, they were certainly an elite team capable of winning it all again in 2016. The Hilanders, guided by coach Paula Toney, came very close to accomplishing that goal. Despite losing their first match 3-2 to the Creswell Bulldogs, Burns responded by winning two straight matches. Burns won 3-2 over the Coquille Red Devils (15-10) to earn a very prestigious fourth place trophy on Saturday at Forest Grove High School.
"We were not really winning too often earlier in the season because we had lots of injuries that hurt our team," said Toney, the Hilanders longtime coach (20 years). "Later in the year, we started winning some games. I'm so proud of the girls for coming out here and pulling together and make everything work out so good for us. We're glad to be back in Class 3A and we're very happy to come home with a trophy. We've now won 12 trophies in the last 14 years, so that's a pretty successful and winning tradition of volleyball."
Burns (21-11) came into the eight-team, two-day event with the momentum of winning 11 of their last 15 games, including a 3-2 win over No. 5 ranked Salem Academy in a second round playoff game Oct. 29. Surprisingly, the Hilanders were the lowest ranked team at No. 12 prior to the tournament.
The Hilanders faced a high-caliber opponent in an 8 a.m. quarterfinal match against No. 4-ranked Creswell (24-8) from the Mountain Valley Conference. The two squads met earlier this year, with Creswell winning at home 2-1 on Oct. 8. Burns had hopes of getting a win, along with some revenge too, against Creswell in the early contest.
The two evenly matched squads certainly battled it out in a seesaw Game 1, which was knotted 20 times and included nine lead changes, with Creswell on top at the end 28-26. Burns responded in Game 2 and grabbed the early lead, up 6-2. Much like the first set, numerous ties and lead changes followed, and Creswell went ahead 16-13.
Burns came back, led by 6-foot senior middle blocker Lindsey Taylor (14 kills, 16 digs). Following a Burns sideout making it 16-14, Taylor served five consecutive points from the service line, including an ace, giving the Hilanders a 19-16 lead.
"We were expecting to get to the championship game, but it feels really good to get fourth place and it's a great accomplishment," said Taylor. "After losing in the quarterfinals, we were determined to come back and play hard and get the highest placing trophy that we could and that's what we did. We struggled at the beginning of the season (losing six of 13 games), but we've come a long way since then."
Creswell then knotted it 19-19 and three more deadlocked scores followed, with the last one at 22-22. Burns senior Ally Sutcliffe (15 digs) pounded a kill for a 23-22 Burns lead. The Hilanders held on for the win, and got their last two points on Creswell hitting errors for a 25-22 victory.
Creswell then regained the momentum with a 25-10 third set win to go ahead 2-1 in the match. In yet another hard fought close fourth set, Burns duplicated its earlier effort with a 25-22 win to extend the match to an exciting fifth set tiebreaker. It was another battle with deadlocked scores throughout the set, with the last one at 10-10. Creswell pulled away at the end for the 15-10 win and a 3-2 quarterfinal victory.
Creswell followed with a 3-0 semifinal win Friday night over Glide (24-4). The Bulldogs then advanced to Saturday's championship game and lost 3-0 to state champion Cascade Christian (31-1). Following the heartbreaking loss, Burns then had to play another early morning 8 a.m. contest in Saturday's consolation round bracket versus the Westside Christian Eagles (15-8).
The consolation loser would be eliminated from the tournament and the Hilanders had no intentions of going home early. Burns was focusing on getting a win to advance to the fourth/sixth place trophy game at noon and that's exactly what they did in getting a 3-2 victory. It wasn't an easy task by any means though against the No. 8 ranked Eagles of Tigard, runnersup from the West Valley League.
The Eagles came out on top in the first set with a 25-21 win. Burns regained the momentum in the second set, leading all the way in a 25-16 win, followed by a 25-19 third set victory. Taylor helped lead the Hilanders to victory as she hammered game-winning kills in both sets. The Eagles came back with a 25-23 win to force the tiebreaker.
It was a dogfight too, as neither team wanted to go home early. The hard-fought, seesaw battle included numerous ties, lead changes and swings of momentum back and forth. Burns jumped in front 10-7 on a Taylor kill and extended its lead to 13-8 on a kill by Sutcliffe. After trading points, Burns led 14-9 and appeared to be comfortably ahead.
The Eagles came flying back though, knotting it at 14-14 and then going ahead 15-14. Burns regained an edge with kills by Taylor helping the Hilanders take an 18-17 lead. Senior outside hitter Nicol Gahley pounded a kill for a 19-18 lead, and then senior setter Carli Feist served a match-winning ace to give Burns the 20-18 fifth set win and a big 3-2 consolation round win to advance to the fourth place game.
"It feels amazing to get fourth place and all our hard work the whole season paid off," said Feist, who earned an All-Tournament Team Second Team award. "We just didn't want our season to end early. We all felt a little nervous at times, but we just had to calm down and do what we needed to do to win two big games."
Burns started strong and built a 14-9 lead and then traded points throughout the set to hold on for a 25-20 win. Coquille responded by winning the next two sets though, 25-22, 25-17, to take a 2-1 set lead in the match. Burns came back in a must-win fourth set, that included 12 ties, with the final one at 23-23. Sutcliffe then displayed her big game ability as she pounded a kill for game point at 24-23, followed by her game-winning kill for the 25-23 win.
Burns then came out and dominated the fifth set. The Hilanders had their sights set on fourth place and they would not be denied. Feist (39 assists, four aces) helped lift the Hilanders in front with her accurate serving as she served four straight to give Burns a 4-0 lead.
Coquille responded with a similar 4-0 run, knotting it 4-4. Led by the hard-hitting trio of Rachel Duhn (six kills) Sutcliffe (15 kills, 24 digs), and Taylor (18 kills, 22 digs), Burns then had a strong match-winning 11-2 rally. Taylor's kill lifted Burns in front 12-5, and after a couple of Coquille hitting errors, Burns went up 14-6. Junior Bella Woodworth then concluded the impressive rally by serving a match-winning ace in a 15-6 win to cap a spectacular season with a shiny new trophy for the Hilanders.
The tournament marked a very successful conclusion of their Burns High volleyball career for seniors Sutcliffe, Emma Winn, Feist, Gahley, Layle Bennett, Cassie Patterson and Taylor.