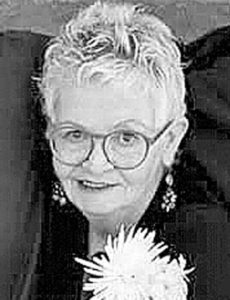 Theresa Marie McClintock, 61, passed away peacefully Oct. 8 at her home after a long illness.
Teri was born in Burns to Bob and Patty Engstrom.  She remained in Burns where she was raised with her sisters, Vickie, Barbie,  and Sandi. Teri had many challenges in her life, which she overcame with grace and persistence.
In her youth, she was a bit of a wild child, riding snowmobiles through all of her neighbors' yards and riding ATVs in the hills behind Burns. Teri loved animals and adopted several pets throughout her life.  She had a special place in her heart for dogs. Teri spent several years working at the Palace as a waitress and the Harney County Senior Citizen Center in the kitchen. Teri especially enjoyed making other people happy.
Teri had her first son, Robert, in 1974. Teri met and married Brad McClintock in 1988 and soon after, their youngest son, Victor, completed the family in 1989. Teri was a devoted mother and wife who took great pride in raising her family. She enjoyed playing card games, in which she was greatly competitive. She always supported her sons in pursing their interests, including hosting two foreign exchange students. Teri and Brad enjoyed going to yard sales together, where they always found something unique and useful. Teri took pleasure in learning about the world and spent time studying religions.  She loved her flower garden and took pride in filling her home with beauty.
Near Teri's end-of-life struggle, she was surrounded by loved ones. Her extended family visited often and offered respite care for her husband, Brad. Teri was fortunate to have a sister-in-law who loved and cared for her during this time.
Teri is survived by her husband, Bradley McClintock of Burns; son, Robert Knieriem and wife, Shara, and grandchildren, Casi, Nicole, Ryker, and Declan of Seattle, Wash.; son, Victor McClintock and wife, Kaylyn, of Portland; sisters, Barbie Thomas of Rochester, Wash., Vickie McCarty-Snook of Salem, and Sandi Engstrom, of Phoenix, Ariz.; and several nieces and nephews.
She was preceded in death by her parents, Bob and Patti Engstrom.
In lieu of  flowers, donations may be made to the Harney County Senior and Community Services Center and/or the Harney County Home Health Care and Hospice. A celebration of life will be held in Burns at a later date.