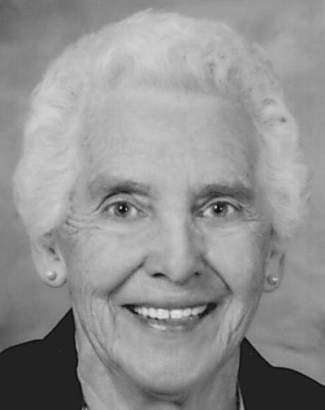 Luisa went quietly in her sleep to her eternal rest with The Father on Thanksgiving night, Nov. 26, 2015. She was born on Aug. 10, 1925, to Juan Jose and Geronima (Bilbao) Elorriaga in rural Berango, Vizcaya, Spain. She was the sixth of seven children born into the family. When her mother became ill and bedridden, she and her sisters, although very young, took on all of the household's responsibilities for the family, while their father and brothers handled the cultivating, planting and harvesting what the family farm would grow as well as tending the livestock. After her mother recovered from her extended illness, Luisa joined in with the farm work as well as wherever she was needed. These were chores while she attended school and became routine work when she ended her formal education at the age of 10. Her drive and ability to work tirelessly, and the skills she learned at a very early age, would serve her well for the rest of her long life. In May of 1950, she married Benigno (Beni) Goirigolzarri. Their first son, Juan Jose, was born the following year. As the young family built a new home on the Elorriaga farm, the repressive legal system under the Franco dictatorship came into their home. His former employer, a wealthy aristocrat, accused Beni of robbery. Despite no evidence nor investigation, he was thrown into prison. Eventually, the real culprit was found, and Beni was released from prison. But the damage had been done. The Spanish Civil War broke out in 1936, and Beni was captured that summer. He survived the executions of his fellow prisoners, the starvation and disease of Franco's labor camps, and the imprisonment until the end of World War II. But the dictatorial oppression continued long after. He needed to leave Spain. In 1954, Beni got on a list to come to the U.S. to heard sheep. Despite Luisa's pregnancy, the one-time opportunity required him to leave for an unknown region called Oregon. Their second son, Javier, was born three weeks later. Luisa and her two young sons rejoined the household of her parents and waited for Beni's return. By 1961, Beni had become a U.S. citizen, worked his way into better paying and secure jobs, and saved enough money to reestablish a comfortable lifestyle for his family in Spain. The family was reunited that summer. But Spain remained in the grips of a dictatorship and still not much better than a third world country. He saw and convinced Luisa that America was a better place for the family and would provide so many more opportunities for their sons. In the fall of 1961, they said good bye to Spain and all of their extended family. They arrived in Seneca in November. Unable to speak any English and unfamiliar with the customs and traditions of their new home, Luisa faced many challenges. But the small community of Seneca gave her a warm welcome. Indeed, the cards and well wishes from the ladies that gathered at her welcoming coffee were still stored with all of her other memorabilia. The electric range and refrigerator/freezer, toaster and other amenities were delightful appliances she had never known. But nothing matched the convenience of the wash machine, particularly given Beni's work in the wet, muddy, cold forests as a logger. When the long, cold winter of Seneca finally turned to spring, Luisa began gathering flowers and plants to surround their home with color. Most of the back yard became a vegetable garden. But Seneca was not Vizcaya, and some of the early flower and vegetable plantings failed due to the cold, with killing frost regularly striking well into June. But she persevered, adjusted and learned, including how to read, write and speak her new language. The family adopted the customs and traditions of their new home, but the traditions and language of the old country were kept alive. Spanish and Basque were always spoken. And the kitchen of their home was always filled with the foods she had learned to prepare as a child, all of the recipes memorized, nothing in writing. By 1967, with the help of a teacher and friend, she had mastered English well enough, studied the history and Constitution of her new home, and stood for the test to become a citizen of the United States. One of her most proud occasions, she passed the test and gained citizenship for herself and her two sons. Once again, the community of Seneca gathered around her in celebration, welcoming its newest citizen. The mountains and forests within view of their home quickly became the favored places to spend weekends camping, picnicking and gathering. The forests and the streams provided, not only recreation, but fish, mushrooms, meat, and huckleberries to eat and wood to heat the home during the long, cold seasons. Soon after Beni retired, they moved to Burns in order to be closer to the grocery store, medical facilities, a longer growing season, less snow and eventually the Senior Center. Since Luisa never learned to drive, a home within walking distance from all those things and the Catholic Church were important. She soon made it their home, surrounded by flowers, a huge garden in the back yard, and fruit trees. She always said she did not enjoy cooking. But she took great pleasure in feeding people that enjoyed her food, especially her grandsons. There was never a shortage of food, and if there was a picky eater present, a desirable substitute was always prepared. She loved all of those boys. If there was a concert, sporting event, or ceremony that they were involved in during her visit, she was there. Freezing cold weather, hard bleachers, noisy gyms, hot summer ball fields, none of that deterred her from cheering them on until it was over.
Luisa is survived by her son, Javier (Karen) and grandsons, Ben and Alex of Roseburg; grandson, Juan (Dawn) and great-grandson, Javier of Puyallup, Wash.; brother, Blas Elloriaga; and sister, Isabel Larandugoitia, of Spain; and many nieces and nephews in Spain.
She was preceded in death by her husband, Benigno; son, Juan Jose; grandson, Nicholas; her parents; brothers, Esteban and Raymundo; a newborn child; and her sister, Mari.
Mass will be celebrated at 11 a.m., Saturday, Dec. 19, at Holy Family Catholic Church in Burns. Contributions in her memory may be made to the Alzheimer's Association or the Harney County Senior Center, P.O. Box 728, Burns, OR 97720.