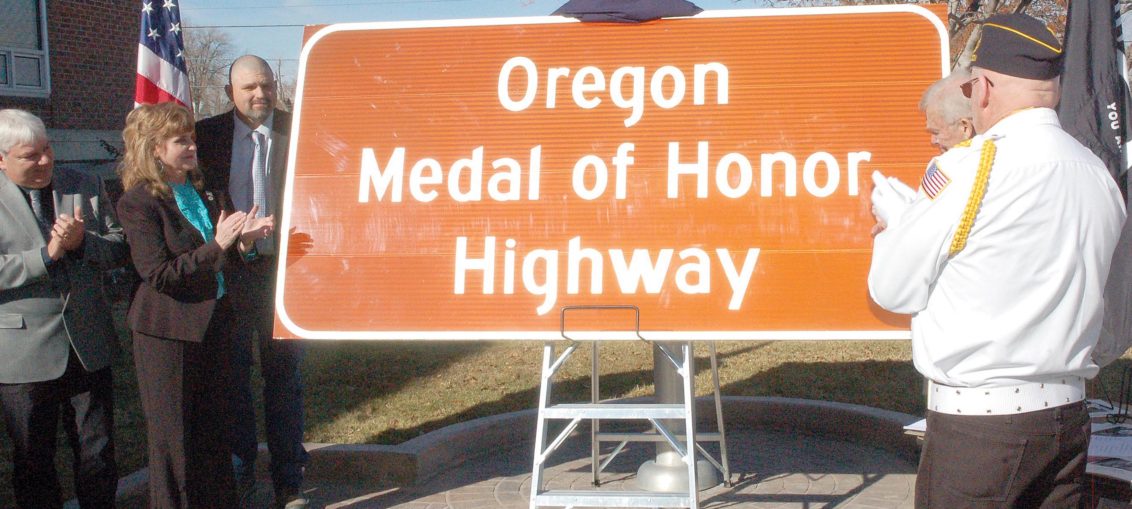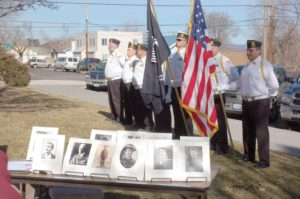 On Wednesday, Feb. 7, Harney County dignitaries, residents, and students gathered in front of the courthouse for a ceremony to dedicate the Oregon Medal Of Honor Highway sign that is now located just a few miles east of Burns on Highway 20.
The sign is the seventh of 12 signs to be installed  along the 451-mile route between Newport and Nyssa.
Harney County Judge Pete Runnels presided over the ceremony, and read the proclamation dedicating the sign and proclaiming Harney County a Medal of Honor County.
Dick Tobiason, chairman of the Bend Heroes Foundation, wrote the legislation that created the six veterans' memorial highways across the state, which honor those who served during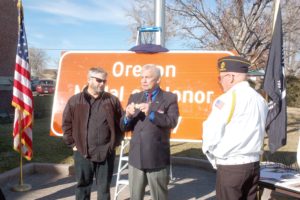 five major wars over the past 100 years. Tobiason stated that the highway honors the 26
Medal of Honor winners connected with Oregon, including Robert Maxwell of Bend, who, at age 97, is the oldest living Medal of Honor recipient. Maxwell was unable to attend the ceremony because of health reasons.
Tobiason told the story of how Maxwell jumped on a grenade to save his fellow soldiers during World War II, and received the Medal of Honor for "conspicuous gallantry and intrepidity at the risk of life above and beyond the call of duty."
Tobiason noted that Highway 20 is the first border-to-border highway in the country to honor Medal of Honor recipients, and he would like to see other states pass legislation to designate the highway as such from coast-to-coast.
Tobiason and others then unveiled the sign on the courthouse lawn. Those wishing to were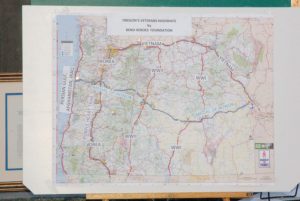 also permitted to sign the back of the sign.
The Bend Heroes Foundation and its partners raised $95,000 during the past 10 years to pay the Oregon Department of Transportation to fabricate and install 79 highway signs on the six veterans highways, totaling 2,500 miles in length. This 10-year project will be completed when the last five Oregon Medal of Honor Highway signs are installed.
The ceremony also included the presentation of the colors by American Legion Post No. 63, the singing of the national anthem by Toni Brown, the singing of God Bless America by Slater Elementary students, and the playing of Taps by Jim Litscher.