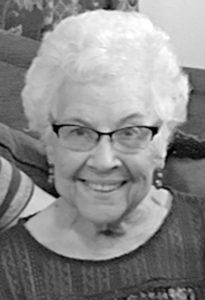 Ova Mae Smith Petersen passed away Jan. 14 in Redmond, following a brief illness, with her family at her bedside.
Ova was 91 years old and had a beautiful sparkle in her eyes, loved to live life to the fullest, and always had a smile on her face.
She was born Dec. 4, 1926, to Henry and Maude Foster in Talahina, Okla. She had three brothers, who preceded her in death.
Ova married Bob B. Smith Jan. 18, 1940. They had four children, Barbara Presley (Gerry Presley), Sandy McVay (Ken McVay, deceased 2015), Bob Smith (Jackie Smith), and Rick Smith (Nancy Smith).
Bob and Ova had 12 grandchildren, and granddaughter, Cindy, passed away a few days after birth.
The majority of Ova's professional career was spent working at the US Bank in Burns.
Ova married Raymond Peterson, and they were married for 18 years. They spent fifteen of those years in Redmond. Ray contracted influenza and passed away unexpectedly one month before Ova on Dec. 8, 2017. The family of Ova will always be grateful to Ray for the love he demonstrated for her during their 18 years together.
Ova had 21 great-grandchildren, and 10 great-great-grandchildren.
She will always be remembered for her fun personality, big heart, and devotion to her family. She will be greatly missed.