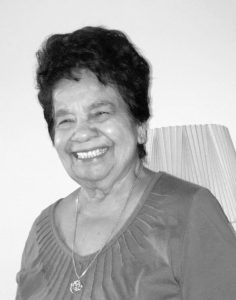 Winona Felicia Gertrude Pietersz, 88, passed away peacefully Jan. 25 at Harney District Hospital, with her two daughters by her side.
Winona was born Aug. 14, 1929, to Arthur Winston Jansz and Gertrude Matilda (Hingert) Jansz, in Colombo, Sri Lanka.
Winona married Romauld Valentine Pietersz Oct. 17, 1959 at St. Mary's Catholic Church in Colombo, Sri Lanka. She attended St. Mary's Catholic School from first to the 12th grade.
In her younger days, she worked for a pharmacy in Colombo, Sri Lanka. She also did some tutoring to make extra money. She moved to the United States in March of 1975 with her two daughters to join her husband who had moved here in December 1974.  She became a proud United States citizen in 1980.  She briefly worked for Rosie Kimble in her day care business, and the rest of her years were spent as a loving wife and mother. She enjoyed spending time working in her yard and planting flowers. Her passion was cooking for her friends and family. She was very proud of her Sri Lankan curry and wanted to share it with everyone.  Mom also enjoyed going to tai chi and being with her friends. She was definitely a social butterfly, and she will always be remembered for her beautiful smile. She was a devout Catholic and a member of the Holy Family Catholic Church in Burns.  She was very proud of her family, especially her five grandchildren. She lost the love of her life, Ray, in September 2017.
Winona is survived by her two daughters, Rozanne, and husband, John Ebar, and Cynthia, and husband, Lane Carpenter; five grandchildren, Christopher Rutledge, Michelle Ebar and her fiancé, Samuel Murphy, Andrew Carpenter, Lacy Carpenter, Brandon Carpenter and wife, Michelle; nephews, Geoffrey Jansz and Godfrey Jansz; nieces, Rosemary Jansz and Cheryl Jansz; and numerous other relatives in Sri Lanka and Canada.
She was preceded in death by her husband of 58 years, Ray; parents, Arthur Winston and Gertrude Jansz; brother, Arthur Henry Jansz; and son-in-law, Ernie Rutledge.
Recitation of the Holy Rosary will be held at 7 p.m. Friday, Feb. 2, at Holy Family Catholic Church.  Mass of Christian Burial will be held at 11 a.m. Saturday, Feb. 3, at Holy Family Catholic Church, with burial to follow in the Burns Cemetery.
Contributions in Winona's memory may be made to Harney County Hospice. LaFollette's Chapel is in charge of funeral arrangements.
SaveSave