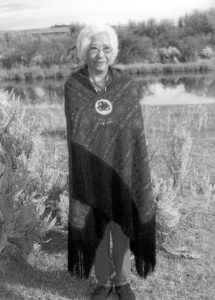 Rena Adams Beers passed away Jan. 16 on the Burns Paiute Indian Reservation (BPIR).
Rena was born March 16, 1918, in Jordan Valley, near a large boulder that had fallen from the cliff above. Her father was John Adams, and her mother was Annie Adams. Both of her parents were Northern Paiutes. Rena spent most of her life in Northern Paiute Territory (NPT). Rena's family was mobile and lived in various locations within the NPT.
Rena spent her early childhood years in Jordan Valley and Silver City, Idaho, with her family. She also lived in Crane for a number of years, in Seneca, and lastly, on the Burns Paiute Indian Reservation. Rena's early life was very difficult. Her family had a wagon in which they traveled to the various places they lived. During her childhood, she learned to ride horses for fun and necessity.
Rena and her family lived at Old Camp near Burns. This was the 10-acre property given to the Burns Paiute people, which used to be the old Burns city dump. They also lived in a tent on the gully located below the old sandstone building, which was a school house behind Slater Elementary. They lived there until the new camp was built around 1937. Rena's mother was given a house there.
Rena and her family lived in a tent in Crane, off the current main highway for a number of years. Rena also lived in the Drewsey area and spent some time in the John Day area. Rena, her parents, and her brothers and sisters also spent time around Boise and Weiser, Idaho. They lived in Pocatello, Idaho, (Fort Hall) for a time, as well.
Rena and her mother cut sagebrush for the local people to make ends meet. Rena said her family roasted and ate ants to survive. Other foods they ate were rabbits, squirrels, groundhog, deer, and salmon.
Rena said they would sew canvas together to make shoes. She filled them with sagebrush to keep her feet warm in the winter. Rena's early childhood years were very difficult.
Chester Beers, Rena's husband, served in the U.S. Army Air Corps during World War II. After the war, Rena and Chester moved to Seneca to work for Edward Hines Lumber Co.
Prior to moving to Seneca, Rena worked for the Burns Laundry, which is the old sandstone building near Safeway, for about four years. She said that was the best early job she ever had. She also did housework for the local Seneca and Burns people.
Chester worked as a Cat driver and built logging roads for Edward Hines. He quit working for Edward Hines because of illness. Rena also worked for Edward Hines in their restaurant in Seneca for a number of years. The restaurant served meals to the lumbermen who worked for the company. The restaurant also had a fountain for local people to buy sandwiches, pop, etc.
Rena had two boys, Fred Townsend and Delmar Adams. Fred attended Chemawa Indian School, Burns Grade School, Seneca Elementary School, and Grant Union High School in John Day. He served in the U.S. Marine Corps. and attended college at OIT in Klamath Falls, and SOC in Ashland. Delmar attended Seneca Elementary School and Grant Union High School. He went on the Indian Relocation Program to San Francisco, Calif., and went to school to become a sheet metal man. He became a great silversmith and owned a construction company in Burns.
After her husband's death, Rena moved to the Burns Paiute Indian Reservation. On the reservation, she was employed as a community health representative (CHR) for many years. She retired from the CHR job when she was 62. During her work as a CHR, Rena took health-related training classes in various cities and made friends with Indians from other tribes.
Rena's parents dug for roots on the NPT, especially around the Burns area. The Northern Paiutes have been digging for bitter roots for thousands of years on the NPT. The bitter roots were needed as food and had religious significance. Rena continued the tradition of digging for bitter roots until 2017. Her son, Fred, was never able to gather more roots than Rena. That was how good of a bitter root digger she was, even at the age of 99. Digging for bitter roots was one of Rena's greatest joys. She was always looking forward to the next year to dig for roots. She would go into the root country at various times to determine the best time to dig. She loved giving the roots away to relatives and friends. She also sold the roots at powwows to other Indians and friends. Her friends, Linda Jones and Tessie Williams, in Pendleton would even order roots from Rena prior to her coming to the July 4th Pendleton Powwow.
Rena loved to go to powwows. She tried to attend the powwows in Warm Springs, Pendleton, and Fort Hall. She loved to see relatives and Indians from various parts of the United States at them.
Rena started to make cradle boards in the latter part of her life. She was pretty much a self-taught cradle board maker. She saw them during her younger years and started making them from memory and experimenting with how to make the best ones. Rena made beautiful cradle boards and enjoyed making them for her children, grandchildren, and other people. Her cradle boards were always in demand. Even in the last months of her life, she was still making cradle boards.
Rena also loved to pick choke cherries, dry them, and make pudding out of them. Northern Paiute Indians have been eating these berries for thousands of years.
Rena also loved flowers. She planted them in her flower bed and other parts of her yard. The beautiful flowers bloomed at various times of the year, and butterflies, bees, and other insects would come and eat the nectar.
Rena loved to have a garden every year. She planted various vegetables, such as carrots, potatoes, tomatoes, and onions. She would gather the ripe vegetables and have them for dinner.
Rena also enjoyed going to garage sales and collecting antique bottles. She and friends would go all over the area looking for antique bottles. She would be very happy when she found a good deal at a garage sale.
Rena was fluent in the Paiute language. She and other tribal members spent 20 years with Tim Thorne — a linguistics professor who is currently teaching at Boise State University — teaching him the Paiute language. Tim ended up being very close friends with all of his tutors.
The early years of Rena's life were very tough, and she survived through it all. We will never know all the tough times that she had because she was a quiet person and never really talked about her early childhood. She loved life and all the things around her, and fought to live until the very end. Rena is now in heaven with the Lord and at peace. It is very hard to let a loved one go, but knowing she will be in heaven, and that the parting is only temporary, relieves much of the pain.
Rena was preceded in death by her husband, Chester; and son, Delmar.
SaveSave