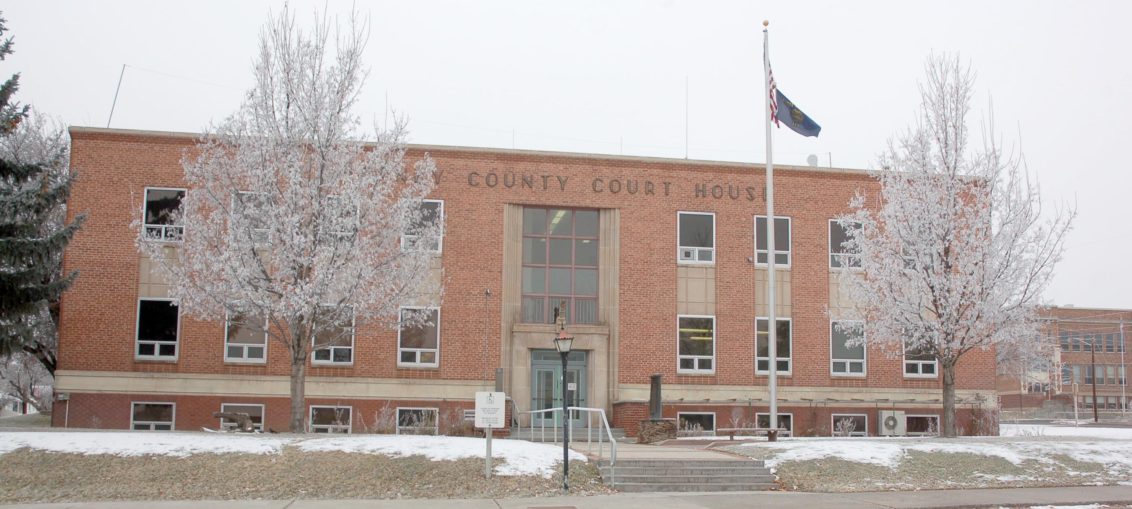 Sheriff Dave Ward and Lt. Brian Needham of the Harney County Sheriff's Office attended the regular meeting of the Harney County Court on Jan. 17 to discuss the wolf depredation training that they recently attended.
Ward explained that the training (which was also attended by local ranchers and elected officials from neighboring counties) taught participants to compare how different predators attack and kill their prey.
The Harney County Sheriff's Office will use techniques learned during the training to investigate the cause of death when livestock is killed.
"You can learn a lot by the injuries on the animals by themselves, from the levels of the bites to the bite radiuses," Ward said.
He and Needham encouraged livestock owners to report their losses so that an investigation can occur.
"Regardless of what type of loss you think it is, we're happy to come out and do a full investigation," Ward said.
Needham agreed stating, "We want to come out and assist with investigations to try to be fair to everybody. If it's a wolf, we'll call it a wolf. If it's not a wolf — if it happens to be a cougar, or a domestic dog, or a coyote, or a black bear, or whatever it may be — we'll call it that too. With this training [that] we went through, we're able to determine which one of those it is."
Needham said they also learned to determine whether an animal was killed by a predator or eaten by scavengers after it died.
Ward said it's only a matter of time until wolves arrive in Harney County, and the state, county courts, and sheriffs need to work together to address them "as they make their entrance into our backyards and our checkbooks."
He also noted that the threat of wolf predation doesn't stop at livestock, explaining that every form of wildlife is impacted when an apex predator moves into an area.
"It's not a matter of if the wolves are going to come here. It's when they're going to come here," he said. "I'm neither for or against them. What I am for is making sure that a solid investigation gets done and that, basically, the state takes responsibility where they need to in repaying those livestock producers for their losses."
Needham noted that the Oregon Department of Fish and Wildlife (ODFW) is the only body that can determine whether livestock owners should be compensated.
Ward said, "I have a problem with that because the same agency that's responsible for the introduction and growing their numbers in the state are the ones who, ultimately, get to make the decision on whether or not wolves are responsible for livestock predation."
He added, "We might have great folks working here locally, but once it gets over to Salem, it's all driven politically and by special interest groups, and that's where my concerns lie."
Ward said, "We can't make the state pay up, but we can come out and assist in that investigation and make sure that you at least get the facts."
Harney County Commissioner Patty Dorroh asked whether investigations by properly trained law enforcement officers are usually accepted, and Needham replied that ODFW has only confirmed a few wolf kills.
"That's where the county governments need to go to the state and say, 'This is not acceptable.' There needs to be a measure of justice involved here," Ward said. "We're not going to make a determination that it's wolves if it's not, but we're not going to let them blame something else either if it is."
Harney County Judge Pete Runnels said he'll discuss the issue with the Eastern Oregon Counties Association.
Needham noted that, in Malheur County, livestock owners have asked ODFW staff to observe while the sheriff's office conducts investigations.
Ward explained that there have been numerous wolf attacks on livestock in Malheur County. He added that the Harney County Sheriff's Office asked to assist Malheur County with its investigations so staff can get hands-on training.
Needham said that, in Harney County, wolves are federally protected on the west side of Highway 395/78, but only state protected on the east side.
He added that there have been reports of wolves in the Dry Mountain area, Pine Creek, and the east side of Steens Mountain, and one wolf track has been verified.
"I don't know if it's a wolf that's staying here or if it's a wolf that was traveling through," Needham said. "ODFW finally admitted at the conference that there are, or have been, wolves through Harney County." However he added that, "They still will not say that there are pairs or packs of wolves living in Harney County."
Ward said he'd like to reinstate the committee that was formed about three years ago to address wolves in Harney County. In addition to community members, Ward said the committee would need to include a wolf advocate.
"In order to have a legitimate committee, you have to have all of the pieces there," he explained.
Ward also dispelled misinformation regarding sheriffs' lack of interest in predation.
He said, "There's not a single sheriff that sits at that round table at the Sheriffs' Association that doesn't care about the things that affect their industries in their communities and their private citizens."
Needham offered to attend a Harney County Cattlemen's Association meeting to teach livestock owners how to preserve a site for an investigation.
Needham, Ward, and the court also discussed wolf population numbers throughout the state.
"As this goes forward, we're going to have a responsibility to make sure that we're educated on what we need to be doing to make sure that the citizens get a fair shake," Ward said.
•••
Bill and Lori Peila, Keith and Katie Baltzor, and Jon and Caryn Burri attended the meeting to discuss increased traffic on Greenhouse Lane.
B. Peila said he thinks Internet mapping apps are routing travelers down Greenhouse Lane to bypass Burns and Hines, and he expressed concern about public safety.
"That road is not designed for heavy traffic," he said, explaining that it's frequently used for agricultural activities, such as moving cattle.
Noting that multiple accidents have already occurred, he added, "The more traffic [that] comes through there, the more wrecks we're going to see."
Keith Baltzor said he believes traffic increased tenfold in the last nine or 10 months, and it's mostly out-of-state vehicles. He added that service stations are scarce along the route and expressed concern about people getting stranded.
B. Peila suggested that the county designate Greenhouse Lane as a local-traffic-only road.
L. Peila said another option could be to put a weight limit on county roads to prevent heavy truck traffic. She added that local traffic and agricultural equipment would be exempt.
Keith Baltzor suggested getting into contact with the mapping companies.
He also discussed the stop sign at the intersection of Greenhouse Lane and Highway 205, which is obscured by a power pole.
"These issues aren't just a minor nuisance," Ward said. "It's a life and death matter in some of these cases where people are being injured and can possibly lose their lives."
The court and Harney County Roads Supervisor Eric Drushella will follow up with residents, the Oregon Department of Transportation, and other concerned parties to address these issues.
•••
In other business, the court:
• was addressed by Paul Hyland who reported that fencing, which was recently built in conjunction with the bridge replacement on Embree Lane, is impeding his livestock's access to water.
Drushella said he'll contact the engineer to come up with a solution.
Hyland also commented that the Bundys are free, but the Hammonds are still in prison;
• upon recommendation by Drushella, awarded the  dozer lease bid to Western States Equipment of Meridian, Idaho;
• appointed Runnels as county budget officer for Fiscal Year 2018-2019;
• reviewed water use requests;
• received correspondence from Steve Beverlin, forest supervisor for the Malheur National Forest, regarding vacant livestock grazing allotments.
"Our intent is to use these allotments as forage reserves, which provides flexibility in the case of wildfire, range improvement needs, or other emergency type situations," Beverlin wrote.
Harney County Commissioner Mark Owens said, "We're probably going to make the recommendation that we don't believe that's the correct use of those allotments;"
• received correspondence from the Forest Service regarding its work to increase efficiency in complying with the National Environmental Policy Act;
• will schedule its 2018 rural meetings during the next county court meeting;
• announced that a ceremony will be held Feb. 7 at 1:15 p.m. in the courthouse lobby to dedicate a sign designating Highway 20 as an "Oregon Medal of Honor Highway."
The event will be attended by Robert D. "Bob" Maxwell who is the oldest living Medal of Honor recipient in Oregon.
The next regular meeting of the Harney County Court will be held Wednesday, Feb. 7, at 10 a.m. in Runnels' office at the courthouse.