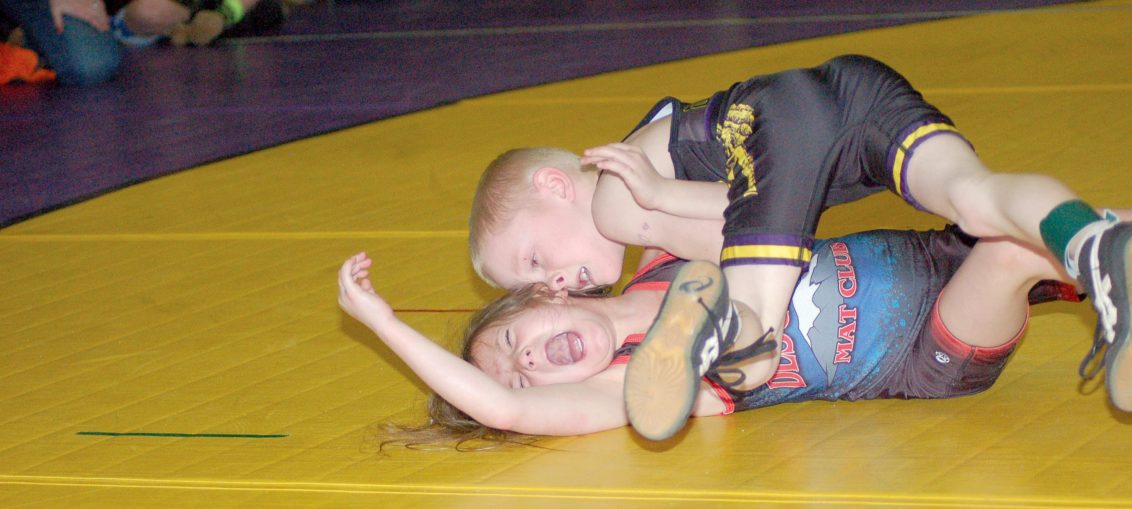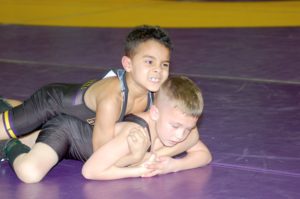 On Saturday, Jan. 20, the Hi-Desert Mat Club hosted its home tournament, the Jay Winn Memorial Hi-Desert Buckle Classic.  There was participation from 37 different clubs from Oregon and Idaho. The Hi-Desert Mat Club placed first in the tournament with 471 points.
Results are as follows:
Pee-Wee 
32-40 lbs. — Kayson Williams 2nd; Dawson Curtis 4th; Silas Johnson DNP
40-44 lbs. — Heyzen Sykes 4th
42 lbs. — Bryer Cornell 2nd
45-49 lbs. — Asher Horlacher 4th
Bantam
43 lbs. — Ethan Stampke 1st; Ledger Kemper 2nd; Dylan Hill DNP; Charles Barnes DNP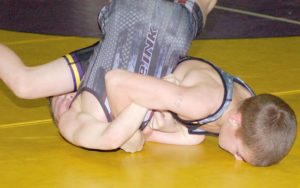 49 lbs. — Cooper Volle DNP
53 lbs. — Amir Schouviller 1st; Liam Shepherd 2nd; Hank Crowley DNP; Scott Graham DNP
56 lbs. — Finn Hemphill 2nd; John Johnson DNP
85+ lbs. — Cole Howard 2nd
Intermediate 
53 lbs. — Dallen Johnson 4th
56 lbs. — Ryik Simpson 4th
59 lbs. — Hayden Cornell 2nd; Kaleb Winn 4th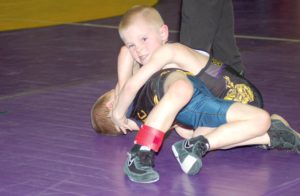 67 lbs. — Cannon Kemper 1st; Owen Kaino DNP; Delbert Dixon DNP
71 lbs. — Noah Ward DNP
77 lbs. — Skeet Schouviller DNP
93 lbs. — Henry Hemphill DNP; Jasper Skunkcap 4th
120+ lbs. — Maurice Petersen 2nd
Novice 
63 lbs. — Thomas Winn 2nd; Ryan Glascock DNP; Danny Raif DNP
67 lbs. — Henry Barnes 2nd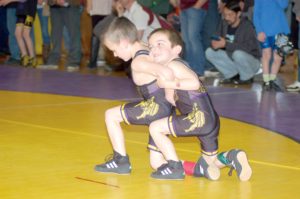 70 lbs. — Canon Winn 2nd; Preston HIll DNP
74 lbs. — Kale Cornell 4th; Lucian Miller DNP
78 lbs. — Michael Beck 4th; Wesley Graham DNP
86 lbs. — Hazen Johnson DNP; Orion Houck DNP; Jaden Davis DNP
92 lbs. — Ryland Dupuy DNP
98 lbs. — Easton Kemper 2nd
Schoolboy
87 lbs. — Carter Lardy DNP
97 lbs. — Corbett Graham DNP
114 lbs. —Hunter Kemper 2nd; Kevin Peasley 3rd
Cadet
120 lbs. — Dayton Baron 3rd
152 lbs. — Wyatt Epling 1st
Corbett Graham was awarded the Jay Winn Belt Buckle for his hard work, dedication and attitude toward the sport of wrestling this season.
Next weekend will finish out the Hi-Desert Mat Club season with the state tournament in Redmond.
•••
On Sunday, Jan. 14, the qualifying members of the Hi Desert Mat Club participated in the Oregon Kids Classic in Redmond. This is a very tough tournament, and the Hi-Desert team came away winning some great matches.
Bantam 
43 lbs. — Ethan Stampke 6th
45 lbs. — Ledger Kemper 5th
85 lbs. — Cole Howard DNP
Intermediate
53 lbs. — Dallen Johnson DNP
59 lbs. — Hayden Cornell 6th
67 lbs. — Cannon Kemper 3rd
120+ lbs. — Maurice Petersen 3rd
Novice
67 lbs. — Henry Barnes DNP
70 lbs. — Kale Cornell DNP
98 lbs. — Easton Kemper DNP
Schoolboy
110 — Kevin Peasley 2nd
114 — Hunter Kemper 6th