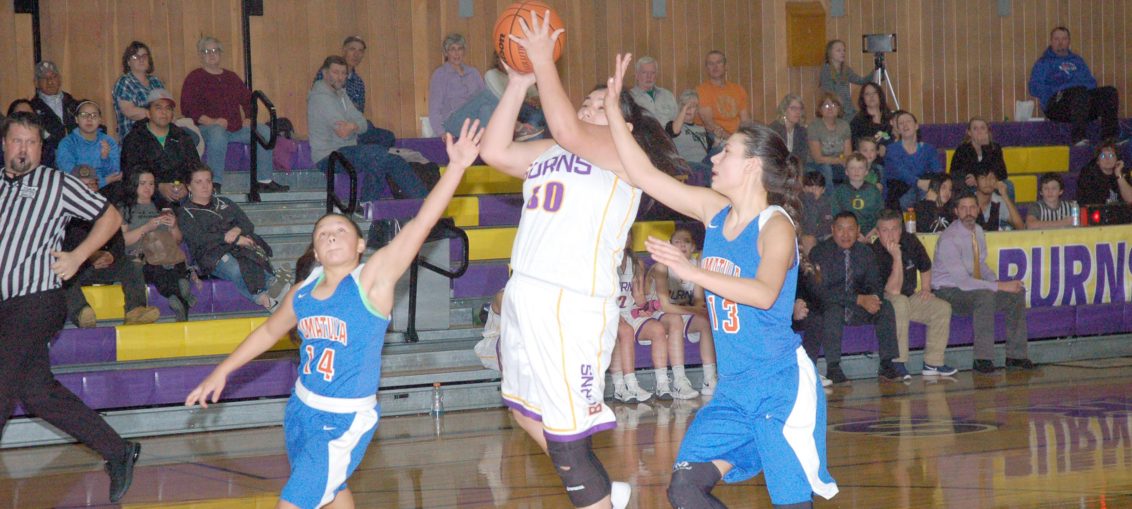 The Burns girls basketball team ran past Umatilla 38-14 in Eastern Oregon League (EOL) action on Saturday, Jan. 13, at Burns High School. With the win, Burns upped their EOL record to 2-0, 10-5 overall.
The Hilanders led 7-5 after the first quarter, and then blanked the Vikings in the second quarter, as they took a 20-5 halftime lead.
The Hilanders outscored Umatilla 8-4 in the third quarter, and 10-5 in the fourth for the victory.
Oakley West dropped in 12 points for Burns, Mileah SkunkCap added eight, Allie Hueckman seven, McKenzi Hoyt four, Aundraya Ceja three, and Jenna Garner and Brooke Sanders two each.
•••
The Burns girls basketball team opened up EOL play with a 43-39 win over Vale on Thursday, Jan. 11, at Burns High School.
West and SkunkCap each finished with eight points for Burns, while Hueckman and Ceja each added seven.
The Hilanders never trailed in the game, getting out to a 12-8 lead at the end of the first quarter, and leading 22-17 at halftime.
The Vikings closed the gap to four points midway through the third quarter, but Burns answered with 3-pointers by Ceja and Hoyt, and a couple of buckets by SkunkCap, to stretch the lead to 35-28 heading into the final period.
After Burns outscored Vale 6-2 early in the fourth quarter, the Vikings went on an 8-0 run to close the gap to 41-38 with about three minutes left to play. Hoyt then sank a pair of free throws to put Burns up by five with 1:16 showing on the clock, and the Hilanders hung on for the victory.
Rounding out the scoring for Burns were Hoyt with five, and Sanders and Garner with four each.
Vale's Tessa McFetridge led all scorers with nine.