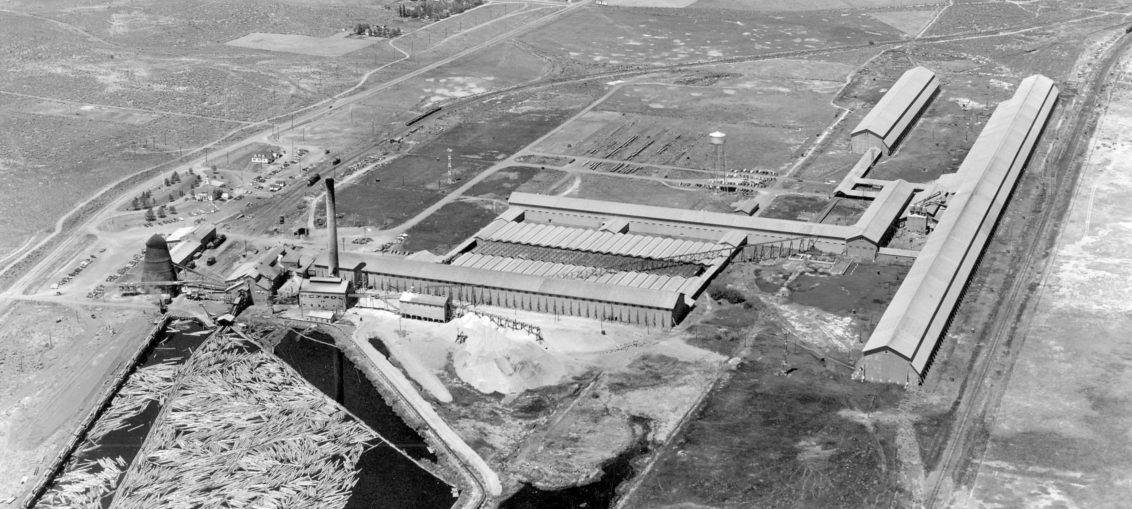 by Karen Nitz
for the Burns Times-Herald
The simple push of a button in Washington, D.C. on May 8, 1930, ushered into Harney County an era of growth and prosperity, the likes of which had not been seen before or since, capping a saga that began nearly 10 years earlier when a man named Edward W. Barnes first cruised a block of timber north of Burns. Construction of the most modern lumber mill in the country was complete; the first log was cut on the morning of Jan. 27, 1930, on head rig  No. 3 by sawyer Ed Reid and setter William Fox. Thus, began the operation of the Edward Hines Lumber Mill, a family-owned company that embraced its employees as family.
It was stated in the Burns Times-Herald at the time that, "No one who saw it cut, no one of the present generation, will see the last log pass through the Burns mill."
The reign of the Edward Hines Lumber Company was not to last, however. Due to economic conditions in the industry, the remaining portions of the operation in Hines, the Ponderosa Pine Division and the Oregon & Northwestern Railroad, were sold to Snow Mountain Pine on May 8, 1983.  Throughout the 53-year tenure of the company in Harney County, thousands of residents spanning multiple generations were employed, directly or indirectly, in sustaining the operation of the mill. Hundreds of photos were taken by the company commemorating its employees and the work they performed. Albums of these images are included in the Edward Hines Lumber Co. display at the Harney County Historical Museum. Unfortunately, documentation of names is sparse. Can you help?
The Harney County Historical Society is interested in bringing together folks who can help identify the faces, places, and dates in these photo albums. Former employees and anyone who has knowledge of the Edward Hines Lumber Co. operations are invited to attend an informal gathering at the Burns Elks Lodge on Thursday, Jan. 18, at noon. Albums will be on hand to browse through. Bring a story or photos of your own to share with the group. Those wishing to enjoy lunch are welcome to bring their own or, beginning at 11:45 a.m., purchase a $7 meal prepared by the Elks.
The program is free and open to the public. You do not need to be a member of the Harney County Historical Society to attend, but membership forms will be available for anyone wishing to join. Membership benefits include free admission to the museum and copies of our quarterly newsletter. The nonprofit organization is supported by membership dues, the sale of books at the museum, donations, small grants, and fundraising activities.
For more information, call the museum at 541-573-5618 and leave a message, or email hchs@burnsmuseum.com.