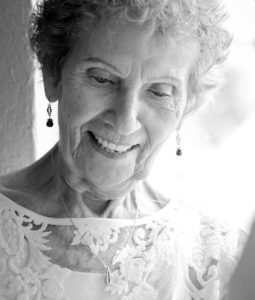 Beryl Miller, a longtime former resident of Burns, passed away Dec. 7 in Tualatin, surrounded by her loving family. She was just a month shy of her 91st birthday. Beryl's energetic and caring personality enhanced the lives of family, friends, and everyone she met.
Born Jan. 6, 1927, in Grand View, Idaho, Beryl was the daughter of Leota Nadine Gress Stampke and Sylvester Albert Stampke. Her younger brother, Joseph, was born two years later in 1929. During her childhood, the family moved to Burns, where Beryl's father was employed as a machinist for the local mill. Beryl attended and graduated from Burns High School. After her father's death in February 1945, her mother, Nadine, married John Wood in June 1946, and Beryl gained two sisters, Delcy and Faye.
Beryl married her high school sweetheart, Montie Bruce Miller, on June 2, 1946, in the Holy Family Catholic Church in Burns. They had two children, David Rodney in 1948, and Trudy Marie in 1951. Beryl worked for the Harney County Hospital, then the Burns Grade School, and finally the local bank, all the while helping Montie run their car dealership "Montie Miller Motors". She was very active in the church, Altar Society, ESA Sorority, and Garden Club, and Beryl was always the first to offer to help with her children's school and neighborhood events.
In 1967, Beryl and Montie moved the family to Tillamook, where Beryl worked for a local attorney's office and then for US National Bank. They met many wonderful new friends there and enjoyed walking on the beach and clam digging. Beryl loved saying, "What a difference for a girl from Burns to go from the dry desert to the rain and humidity of Tillamook!"
Eventually, Beryl and Montie settled as "empty nesters" in Beaverton. They loved working on their house and garden, as well as taking many road trips and golf vacations. Sadly, Beryl lost Montie in 1976. She continued living in Beaverton and working for the Beaverton Medical Clinic until she finally retired at the ripe "young" age of 70!
In 2000, she moved to the retirement community of Summerfield in Tigard. Beryl was an active member of her community and participated in many social clubs and events. She loved her neighbors and friends dearly.
Beryl was also very active in the lives of her granddaughters, Carly and Caroline. She was very proud of them and enjoyed talking and texting with them often. She also notably "danced the night away" at both of their weddings.
Beryl is survived by two children, son, David Miller (Monica) of Albany, Ga., and daughter, Trudy Twedt (Mark) of Portland; two sisters, Delcy Currey of Lake Havasu, Ariz., and Faye Richardson of Minong, Wis.; and two granddaughters, Carly Twedt Lagusis (Nick) of San Francisco, Calif., and Caroline Miller Link (Hayden) of Shawano, Wis.
Beryl was preceded in death by her brother, Joe Stampke in 1993.
Beryl's vivacious and loving spirit, as well as her infectious smile and laugh will certainly be missed. Affectionately known as "Gramie", she was a surrogate mother and grandmother to many extended family and friends.
A Funeral Mass will be held at 11 a.m. Saturday, Jan. 27, at St. Anthony's Catholic Church in Tigard, with a reception immediately following in the parish hall. A Rosary Vigil will also be held at 7 p.m. Friday, Jan. 26, at St. Anthony's Catholic Church.
In lieu of flowers, the family asks that contributions be made to either St. Anthony's Catholic Church, 9905 SW McKenzie St., Tigard, OR 97223, www.satigard.org or American Macular Degeneration Foundation, P.O. Box 515, Northampton, MA 01061, www.macular.org/how-donate.