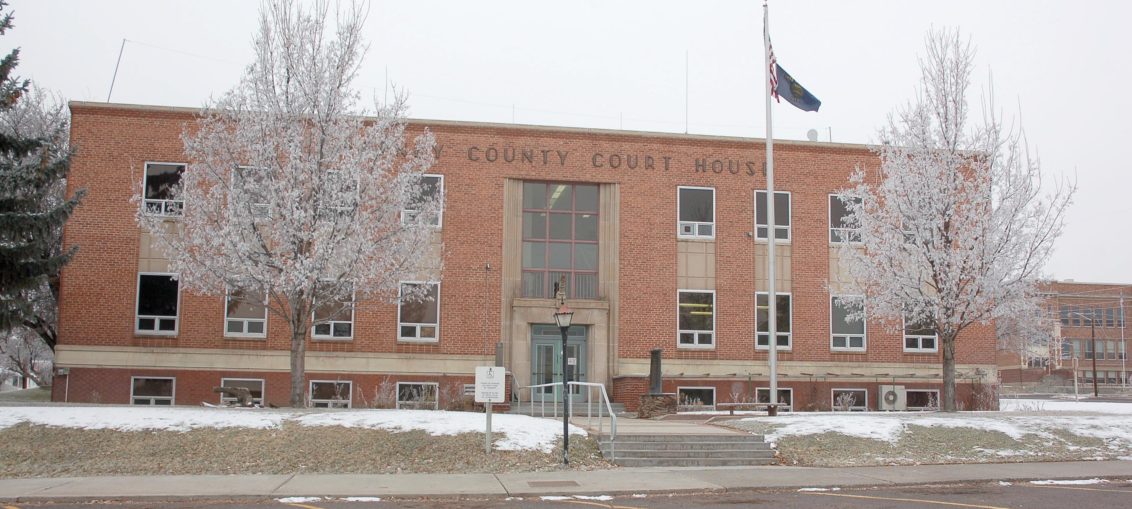 Former Interim Fair Manager Rick Paul and Harney County Fair Board President Karen Moon attended the Dec. 20 regular meeting of the Harney County Court to introduce the new fair manager and present financial information regarding the 2017 Harney County Fair, Rodeo, and Race Meet.
Paul reported that the race meet lost $15,000, and the rodeo lost about $28,000. He said the race meet was more profitable than last year, and he is "perplexed" by the rodeo results.
"I know that there are rodeos all over the United States that make money," Paul said. "We're not real sure why we don't."
Paul added that he talked to other fairs to learn how their rodeos are conducted. He said Josephine County rents its fairgrounds to a committee that provides the rodeo, and Klamath County garners substantial sponsorships by hosting eight annual rodeos as part of a circuit.
Harney County Judge Pete Runnels asked about the profitability of last year's rodeo, and Paul replied that 2016 and 2017 were about the same.
Paul also reported that, because the decision had to be made by Jan. 1, 2018, the Fair Board's rodeo committee decided to renew its license with the Northwest Professional Rodeo Association (NPRA). He added that there's been some discussion about switching to the Professional Rodeo Cowboys Association (PRCA), but stated that it'd be more expensive because the payouts are larger.
However, he said, "It's still something that we can look at. Maybe we can get some better sponsors or something."
Harney County Commissioner Mark Owens asked, "If we lost $28,000, [and] we're going to re-up with the same contractor, what are we going to do different this year in order to try to keep that from happening again?"
Moon said, "Now, if we're going to have any rodeo at all, it's going to be NPRA. Because to change to PRCA, you need to join a different association. There is a lot more prize money. There are, I assume, different judges, different contractors. It's something that you can't get done between October and January 1."
"You could have a Friday and Saturday night local rodeo. There's other alternatives you could've taken except deciding to spend the same amount of money," Owens said. "That's just my personal thought."
"It's not that we're not considering that. It's just that, right at this point, if we're going to do this, the decision has to be made now. So we'll make that decision for now and then start the changes for the year after and all that it entails," Moon said, adding that board didn't want to overwhelm the new fair manager.
Paul also noted that the rodeo needs to obtain more and greater sponsorships. Owens asked whether they would be community sponsorships? Paul replied that they'll help, but corporate sponsors are also needed.
Owens asked how gate receipts contribute to the race meet and rodeo, and Paul replied that, at an average of $5 or $8 per person, gate fees aren't covering the costs.
He said the board discussed various options for approaching admission. One option would be to offer free entry into the fair, but charge for each event in the grandstands. Another option would be to charge a nominal fee for fair admission and an additional fee for the grandstands.
"I would like to see the board consider that," Owens said, adding that he believes the fair would attract more people if admission is lower for those who don't wish to attend the rodeo and race meet.
Paul said the board will continue this discussion.
He also reported that revenue from entertainment and vendors increased this year. He added that, compared with last year, many more people attended the fair on Saturday, but fewer people attended the fair on Thursday and Friday.
"If you examine it, you'll notice that the [Sammy Kershaw] concert was a draw on Saturday, but it was a draw against…the previous two days," Paul said.
He asked, "Will people pay an extra $10 to go to that concert if they've not paid $8 to get in [to the fair]?"
Owens replied, "I think it would give you a good idea of whether it's paying for itself or not."
Paul also noted that beer sales increased during the concert, and two vendors ran out of food.
Owens asked whether Sunday's reduced fare increased attendance. Paul said he didn't have that information, but it can be gathered.
Paul also reported that more people attended the carnival on Saturday than all of the other days combined. However, he noted that people complained about the carnival, and said the board is looking to contract with another company.
During the Fair Board meeting on Dec. 12, Jordon Bennett, the new fair manager, presented a proposed contract from Funtime Carnival out of Payette, Idaho.
"I think it's going to be a better fair," Paul said. "We had nine rides this year, I think they're going to bring 11 next year, so that will be better." He added, "Their crew is a different crew than what we had."
Paul also discussed RV rentals and ticketing.
Owens asked, "How much does the state give the fair every year?"
Paul replied, "Last year, they gave us $53,699."
Noting that the beginning balance was about $53,000, and the ending balance was about $42,000, Owens asked Paul to explain his statement that the fair made money this year.
Paul said he puts all the income in one pot and all the expenses in another pot and looks at the difference.
Owens replied, "I'd go broke if I did math that way."
Paul said money collected throughout the year should be considered, adding that about another $57,000 will be coming in this year.
However, Runnels said, "The purpose of that is to keep the fair going."
Owens noted that the fair is doing better, and Runnels thanked Paul for his years of service.
"It's been a big learning experience, and it's taken Rick two years to figure out how some things were done," Moon said. "Even though the changes are slow, the changes are happening."
•••
During the previous county court meeting, Runnels reported that the county was looking to fill two positions on the Fair Board.
The court received letters of interest from Jim Kelley, Kevin Pryse, Mary Lee White, and Jackie Smith. Kelley and Pryse asked to be reappointed. White and Smith would be new to the board.
After some discussion, the court agreed to appoint White and Smith to the Fair Board.
Harney County Commissioner Patty Dorroh said Kelly and Pryse both did an outstanding job of contributing to the fair, and she hopes they will continue as directors.
"I always see the board role as a little different than the director's role," she said. "Sometimes, you can do both, but sometimes it's better to have board members focusing on some of these business and strategic thinking things."
•••
Harney County Assessor/Tax Collector Ted Tiller, Harney County Counsel Tim Colahan, and Harney County Clerk Derrin (Dag) Robinson discussed the process for forming a road district and whether it would benefit the Meadowland area.
They, along with Harney County Roads Supervisor Eric Drushella, agreed that it wouldn't solve the area's problems, as deed and title issues need to be resolved.
Barbara Cannady asked the court to organize community meetings so that area landowners can communicate and solve problems. She added that they don't know how to contact each other.
Tiller, Runnels, and Robinson replied that landowners' names and addresses are public information that can be obtained on the county's website or by visiting the courthouse.
Owens said postcards can be sent to the landowners in an attempt to organize a meeting.
Cannady noted that she doesn't live in the Meadowland area, and Dorroh asked whether someone who lives there could take a leadership role.
"It starts with the people getting together and agreeing and talking. I'm just saying, some don't want to play," Runnels said. "If they're not going to talk and work together, it's still not going to solve the problem."
•••
In other business, the court:
• watched a presentation by Matt Obradovich, district biologist for the Burns Bureau of Land Management, regarding adaptive management for sage grouse;
• discussed a draft letter that Dorroh wrote to the Oregon Smoke Management Review Committee regarding the Oregon Smoke Management Plan.
Dorroh explained that the primary goals of the plan are to improve management of prescribed burning as a forest management protection practice and minimize emissions from those fires, consistent with air quality standards and health issues.
She said she learned additional information since she wrote the draft, and she'd like to revise it.
The court will revisit the matter during a subsequent meeting;
• listened to the Mennonite carolers who sang in courthouse foyer;
• approved the Interoperability Communications Plan, as presented by Harney County Emergency Manager H. Paul Gray;
• appointed Michelle Friedrichsen and Jolene Cawlfield to the Eastern Oregon Coordinated Care Organization Local Community Advisory Council;
• reviewed water use requests;
• received correspondence from the Malheur National Forest regarding timber sales offered between Oct. 1, 2017, and Sept. 30, 2018. The packet also includes Small Business Administration (SBA) calculations for the past six months, SBA cumulative set-aside analysis, and a list of timber sale projects and area maps;
• received a brief update from Courtney Crowell, the new Regional Solutions coordinator for the Greater Eastern Oregon Region;
• received an update from Owens regarding his trip to Washington, D.C. to discuss the Blue Mountains Forest Plan;
• learned from Robinson that a special election will be held Jan. 23, 2018, to consider Measure 101;
• received a copy of an article from Paul Hyland.
The next regular meeting of the Harney County Court will be held Wednesday, Jan. 3, 2018, at 10 a.m. in Runnels' office at the courthouse.