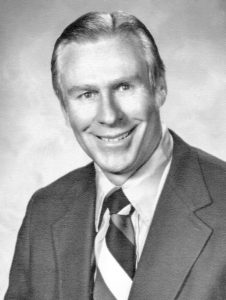 Gordon Dow Wilson passed away Nov. 21. He was a cherished and respected gentleman. Gordon was born April 24, 1928, in Woodburn to L. Dow Wilson and Gladys Wilson. He graduated from Grant Union High School in John Day, and the University of Oregon. He married Joyce Dies Aug. 19, 1951. They were blessed with three children, Karen Wilson Scott, Kathryn Wilson Thompson, and Steven Wilson.
Gordon built a dynamic career in the lumber industry, beginning in New Mexico and encompassing mill management roles in St. Anthony, Idaho, Hines, Hill City, S.D., and Lakeview. He excelled in production system innovations and motivating people. His team approach led mills and those working with him to success, even in difficult industry times.
Gordon established a reputation as a community leader in the small towns where he and Joyce lived. He participated in the Elks Lodge, Rotary Clubs, golf associations, Ducks Unlimited, Pheasants Forever, and Outdoors Unlimited. Professionally, he was an active member and officer of the Wood Products Associations. He was an avid outdoorsman who cared deeply about nature and wildlife.
Gordon is survived by his wife and best friend, Joyce; brother, Tom (Leslie) Wilson of Springfield; daughters, Karen (Bill) Scott of Idaho Falls, Idaho, and Kathryn (Britt) Thompson  of Kingston, Wash.; son, Steven (Laurel) Wilson of Vancouver, Wash.; grandchildren, Kimberly (Carlos) Sauceda with great-grandsons, Andrew and Lucas, of San Jose, Calif., Matthew Hollister with great-granddaughter, Angel, of Maple Valley, Wash., Jeffrey (Christie) Wilson of Portland, and Jennifer Wilson of Portland.
The Wilson family will conduct a private celebration of his life and legacy in the spring. In lieu of flowers, please send donations to Pheasants Forever. https://pheasantsforever.org
SaveSave