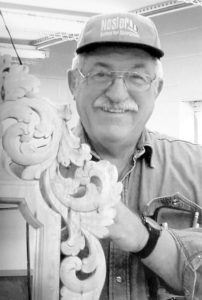 Hilton "Pete" Grisel passed away Dec. 1, with family close by his side.
Pete was born July 19, 1938.
Pete and his three brothers grew up tough in the wilds of Southeastern Oregon, near Lakeview. This led to a self-sufficient man who could make or fix anything with bailing wire and a cigarette.
He was the model of what America can be: a self-made man, capable of fixing or making anything; building a business from scratch while supporting a family; elevating the community of gun craftsmen with his attention to detail. He could be charming and light on his feet, then determined, gruff, and tough as shoe leather.
Pete left Southeastern Oregon to enlist in the Air Force and graduated with Flight 390 at Parks Air Force Base in 1956, where he served as an airplane mechanic.
Pete enrolled in gunsmithing school in Trinidad, Colo. He became known worldwide for his custom rifles. Pete co-founded the American Custom Gun Makers Guild and Dakota Arms, and was a member of Ducks Unlimited and the National Rifle Association.
Pete kept himself busy with furniture-making, carving, and restoration of antique cars. Never one to go in halfway, he researched, trained, and mastered these hobbies. His family and friends were happy recipients of his custom furniture and metalwork.
Pete is survived by his loving wife, Shirley; brother, Bill; daughters, Krista Grisel, Kathy Fournier, and Kim Miller; and grandsons, Jonah and Zachary.
With his passing, fish are safer and his friends and sons-in-law might actually be able to catch one or two.
A memorial for Pete will be held from 2 p.m. to 6 p.m. Sunday, Dec. 10, at the Elks Club in Milton-Freewater.
To leave a condolence online, visit: www.munsellerhodes.com