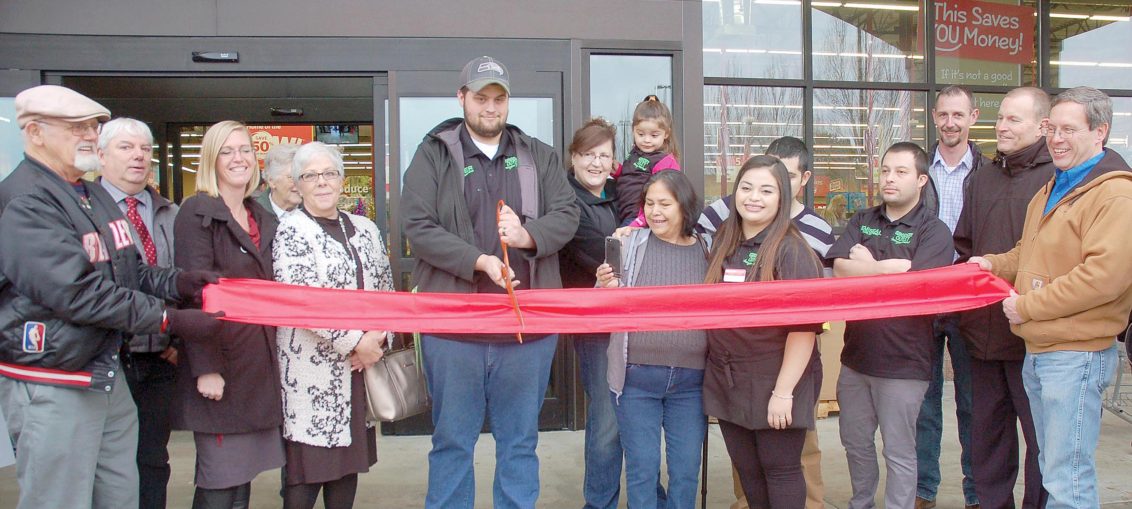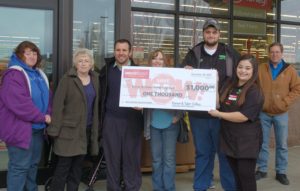 The new Grocery Outlet in Hines is open and ready to serve the community, and owners and operators Tyler and Karen Colley said they're right where they want to be.
After growing up in the Medford area, Tyler moved to Portland in 2010 and got a job with a Food 4 Less grocery store. He met Karen there, and the two were married in 2012. When that store closed, the Colleys both went to work for Grocery Outlet, and that's when their dream of owning their own store began.
"We wanted our daughter to have what we didn't have growing up," Tyler said. "We love the company, and we want to be involved in the community. We want to give back to others because we've been blessed."
The Colleys wasted little time giving to the community, as they presented a $1,000 check to the Burns Christian Church Food Bank during the ribbon-cutting ceremony on Nov. 30.
Tyler said he grew up hunting and fishing in Harney County, and when the opportunity to own the store here became available, he and Karen were immediately interested.
"This is a perfect place to raise our daughter, Areya, who's 3, and a good place to retire," Tyler said. "We're here to stay. The only move we're planning to make is from one house here to another."
Tyler added that they were fortunate to get the store they wanted right off the bat, and the community welcomed them from the start.
"When we moved into our house, neighbors were bringing over cookies and stuff to welcome us, and it seemed kind of weird at first," he said with a smile. "But that's the way it is here, lots of support from the community, and we want to give back to them."
Grocery Outlet purchases discontinued or overstock name-brand products and sells them at 40 to 70 percent of traditional grocery prices.
The store will always carry milk, eggs, meat, and produce, and other products will change as they become available from the warehouse. Tyler explained that he receives a list of products available at the warehouse, and then he chooses which ones he wants to have at the store. He added that customers are welcome to look at the list of available products and request items.
"They can just talk to Karen or me, and we'll see what we can do for special order requests," he said.
Along with food items, the store also carries beer and wine, health, beauty care, and seasonal items.
"We want people to walk in with smiles on their faces, and never lose those smiles," Tyler said. "I started out in this business just pushing carts, and now we're owners of our own store. People need a store where they can save money, and that's what we're here to do."
The Grocery Outlet is located on Highway 20 in Hines, and is open 8 a.m. to 9 p.m. every day of the year, except for Easter and Christmas.