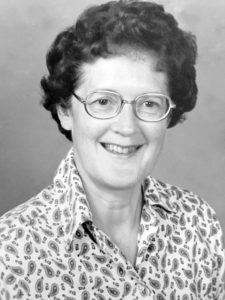 Clara L. (Parmele) Cannon passed away Nov. 10 at her home in Bend, with family at her side.
Clara was born in Taft Dec 3, 1929, to F. G. and Ruby Parmele. Even though she lived many years in Eastern and Central Oregon, her love for the ocean remained constant. After graduating from Burns Union High School, Clara joined the workforce until she met her forever love, Dean Cannon. The two were married May 19, 1954, and made their first home at Summer Lake, where they raised their two children, Debbie and Wayne. Clara was an active community member, always willing to share her knowledge and love of learning. She took care of her family, was a 4-H and Camp Fire group leader, and at one time served as a Lake County Justice of the Peace. Throughout her life, Clara's interests included reading, bird watching, gardening, fishing, travel, crafts, and much more.
Eager for new opportunities, Clara and Dean purchased another home in Bend in 1969. Clara then began her career in the banking industry, beginning with Equitable Savings & Loan where she soon became a loan officer. She gave much energy to the job, but even more to her children, encouraging them in the pursuit of their own success. With the passage of time, Clara was blessed with two grandchildren, Christie and Heidi, to whom Clara gave and received an immeasurable amount of love. This love for family continued as Clara gave her heart and time to four great-grandchildren. Clara shared by example for family, as well as community, and was an active member of many organizations in Bend.
After retirement, Clara and Dean traveled extensively, visiting nearly all 50 states in America, as well as Canada and Baja Mexico. Clara lived a lot of life, leaving a legacy of love for her family.
Clara is survived by her husband, Dean; daughter, Debbie; son, Wayne; granddaughter, Christie and her husband, Matt Mahoney, and their children, Sean and Molly; granddaughter, Heidi and her sons, Clayten and Conner; sister, Berniece McGee; brother, Benny Parmele; brother-in law, Swede Rosling; numerous loved nephews, nieces, cousins, and other family members, as well as many friends.
Clara's services will be held at 11 a.m. Monday, Nov. 27 at the Niswonger-Reynolds Funeral Home Chapel, 105 NW Irving in Bend. She will then be laid to rest at Pilot Butte Cemetery, followed by a potluck celebration of life.
Contributions in Clara's memory may be made to Partners in Care, 2075 NE Wyatt Ct., Bend, Oregon 97701, or to a charity of the donor's choice.