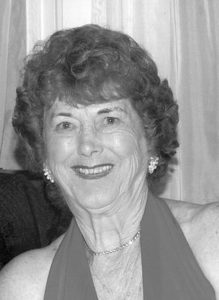 Peggy Jean Carr-Rainville, a recent Pullman, Wash. resident, passed away Oct. 24 at Bishop Place in Pullman. She was 89.
Peggy was born Aug. 7, 1928, in Oregon City to Ruth and Perry Hogan.
Peggy spent many years as a housewife and worked 30-plus years at Edward Hines Lumber Co. in Hines as a millworker.
Peggy was married in 1946 to Ted Whitesell, and they had one daughter, Pauline.
They divorced in 1962.  She was married a few years later to Jim Howard in Burns. They had one son, James M. Howard Jr.  This marriage also dissolved.
She then married Byron Carr, also of Burns. They remained married for more than 30 years. They both retired, moved to Missouri, then to Mesa, Ariz., living there until Byron passed away.
In 2004, she married Arthur T. Rainville in Mesa. They lived an active life of travel, dancing, and socializing.
Peggy enjoyed bowling, playing billiards, playing cards, crafts, cooking, and dancing.
Peggy was always a happy lady with a big smile on her face. She loved people, parties, and especially her family. She had many friends and was loved by all.
She is survived by her husband, Arthur T. Rainville; daughter, Pauline (Polly Walker); son, James (Jim) M. Howard Jr.; eight grandchildren; 17 great-grandchildren; and three great-great-grandchildren.
A celebration of life was held Saturday, Oct. 28, in the Centennial Room at the Best Western-University Inn in Moscow, Idaho.
Her remains will be placed in the Mountain View Cemetery in Mesa.
In lieu of flowers, the family requests that memorial donations be made to the Alzheimer's Association in her name.
Arrangements have been entrusted to Short's Funeral Chapel in Moscow, and online condolences may be sent to www.shortsfuneralchapel.net.