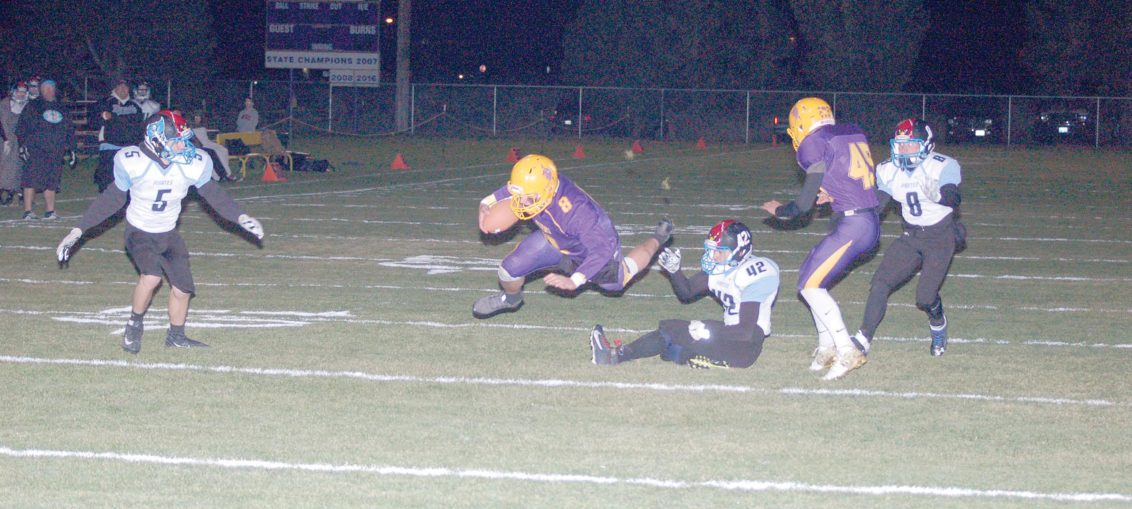 Josh Reagle of Burns returned the opening kickoff 84 yards for a score, and the Hilanders never looked back on their way to a 50-6 win over Riverside, Friday, Oct. 13, at Corbett Memorial Field.
Burns scored on a 27-yard run by Bryce Goss and a 3-yard run by Reagle on their next two possessions to take a 19-0 lead with more than five minutes left in the first quarter.
Goss then fired a 36-yard TD pass to Zane Bailey as time expired in the first quarter, putting Burns up 26-0.
The Pirates started their next drive at their own 26, and after a 1-yard gain, Mason Heger threw to Felix Aparicio for a 73-yard score, cutting the lead to 26-6.
Burns answered with a 53-yard drive, getting the touchdown on a 19-yard pass from Goss to Evan Gunderson.
With just over three minutes left in the first half, Goss found Gunderson open for a 9-yard touchdown pass, and the teams went into the break with Burns up 38-6.
On Burns' first posession of the second half, Reagle scored his third touchdown of the night on a 1-yard run and Burns led 44-6.
Cade Maupin completed the Hilanders' scoring with a 25-yard touchdown run in the third quarter.
With the victory, Burns improved to 2-1 in the Eastern Oregon League and 4-3 overall. The Pirates dropped to 0-3 in league, 2-4 overall.
The Hilanders host Vale (2-1, 4-3) at 7 p.m. Friday, Oct. 20.
Riv     0      6      0      0      6
Bur   26     12    12     0     50
First quarter
Bur — Josh Reagle 84 kickoff return (pass failed) 11:40
Bur — Bryce Goss 27 run (Evan Gunderson kick) 8:57
Bur — Reagle 3 run (kick failed) 5:22
Bur — Zane Bailey 36 pass from Goss (Gunderson kick) :00
Second quarter
Riv — Felix Aparicio 73 pass from Mason Heger (pass failed) 10:47
Bur — Gunderson 19 pass from Goss (kick failed) 9:04
Bur — Gunderson 9 pass from Goss (kick failed) 3:42
Third quarter
Bur — Reagle 1 run (pass failed) 6:22
Bur — Cade Maupin 25 run (kick failed) 2:30
Individual statistics
Rushing — Burns, Goss 9-103, Reagle 9-37, Gunderson 1-5 Maupin 1-25, Winn 4-21, King 5-24. Riverside, Corpus 9-17, Roque 9-6, Heger 5-(-24), Gorman 6-7, Aparicio 1-(-7).
Passing — Burns, Goss 6-13-0 95, Winn 1-1-0 7. Riverside, Heger 3-15-0 124.
Receiving — Burns, Bailey 2-46, E. Gunderson 4-49, H. Gunderson 1-7. Riverside, Aparicio 3-124..