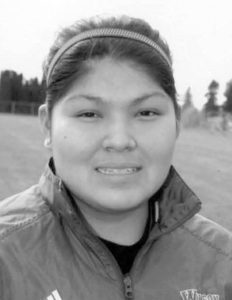 Alyssa Josephine Bahe, 21, passed away from a brain aneurysm Nov. 20, 2016, at Oregon Health Sciences University in Portland, surrounded by family.
She was born on New Year's Eve, Dec. 31, 1994, in Burns to Wes and Vanessa Bahe.
Alyssa was an enrolled member of the Burns Paiute Tribe, Wadatika, from the Pa-si-go family, and descendent of the Shoshone of the Duck Valley Indian Reservation, Choctaw Nation of Oklahoma, and Navajo Nation.
In 2013, she graduated from Wilson High School. In high school, she participated in volleyball, basketball, softball, and track and field. Alyssa was the Portland Interscholastic League District 5A champion in track and field for the discus and shot put events. A highlight of her sports career was being selected to represent the 2013 Oregon Team during the Down Under Sports Track & Field Meet in Australia.
Alyssa won the National Indian Education Association's High School Oratory Division, in her junior year, and spoke of the Return of the Boise Valley People. Anytime she was asked to give a public speaking presentation, she rose to the occasion and shared her encouraging words. Throughout the years, Alyssa gave presentations to the Burns Paiute Tribal youth, and she was also a youth representative for the Indian Education program in the Portland Public Schools District.
In May 2016, she obtained her associate of arts degree in liberal studies from Haskell Indian Nations University, in Lawrence, Kan. She also received certificates in federal records management training. Alyssa was working toward her bachelor's degree in business and marketing, and was accepted in the school of business at Hawai'i Pacific University.
Last fall, Alyssa became a member of the Columbia Basin Basketry Guild and enjoyed learning traditional basketry techniques. She worked with cedar, pine needles, tule, and willows. She also submitted a grant to help her study basketry, and it was announced to her family that she was a recipient of the Native Creative Development Grant by the Evergreen State College's Longhouse Education and Cultural Center. At the family's request, the grant will be transferred to the Burns Paiute Tu-Wa-Kii Nobi (Kids House), in Alyssa's honor.
Over the summers, Alyssa would visit her grandparents in Burns. She loved spending time with her family on the Burns Paiute Reservation and Burns community. She also enjoyed visiting her family in Arizona and Oklahoma. Alyssa was learning about her Tribes, history, practicing her culture, and she always thought of the Seventh Generation.
The Portland Trail Blazers were Alyssa's favorite team, and she enjoyed watching them play with friends and family. While in Kansas, she gained a new team, the Kansas City Royals, and enjoyed watching them win the World Series.
Alyssa enjoyed the outdoors and fishing with her family. She always had good fishing days and, if she didn't catch a fish, then she would make the most of it and go swimming! She also enjoyed hiking and traveling with family and friends.
She was a member of the Anthem Church, in Portland, and also attended the Portland Christian Center. Alyssa was an inspirational young lady, with a kind and humble spirit, and a blessing to all who knew her and will be dearly missed. Alyssa loved the Lord Jesus Christ and believed that we are all part of God's masterpiece, divine plan, and glory.
Alyssa is survived by her parents, Wes and Vanessa Bahe; maternal grandparents, Cecil and Diane Dick of Burns; paternal grandparents, Dean and Lola Bahe of Arizona; great-grandparents, Morretta Keams and Kee Bahe; aunts, uncles, cousins, and numerous relatives.
Celebration of life services were held for Alyssa at the Harney County Church of the Nazarene and Wilson High School. Funeral arrangements were made by LaFollette's Chapel, and interment was at Old Camp on the Burns Paiute Reservation on Nov. 26, 2016.
A memorial will be held for Alyssa at 1 p.m. Saturday, Oct. 21, 2017, at the Burns Paiute Gathering Center.
Memorial contributions may be made to the Burns Paiute Tribe Tu-Wa-Kii Nobi Youth.
SaveSave
SaveSave