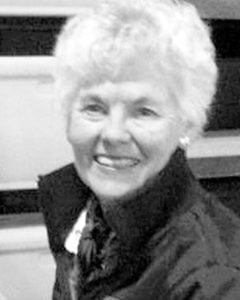 Faithe Rupp passed away Thursday, Oct. 5. She championed two neurological diseases, Parkinson's and multiple system atrophy, with amazing grace and stamina, to the very end. She remained in her home where she was surrounded by family, friends, and caregivers. She was age 70 at her passing.
Faithe is survived by her loving and attentive husband of 50 years, Merlin Rupp; daughters, Dana Rupp (Billy Mort), Robyn Quintana, and Ronda (Ty) Van Norman; granddaughters, Taylor Adams, Katie Eaton, Anna and Maggie Van Norman; grandsons, Branden Adams, and Lance Eaton; brothers, Chuck (Connie) Mackenzie, and Leigh (Angie) Wood; sister, Linda (Ken) Stockman; and numerous nieces and nephews.
A celebration of life will be held at 1 p.m. Thursday, Oct. 12, at the Harney County Church of the Nazarene. Refreshments will be served along with a time of sharing following the service. Donations may be made to Harney County Church of the Nazarene, P.O. Box 472, Hines, Oregon, 97738, or to a local church of your choice in her memory.
The family would like to extend our sincerest gratitude to the many faces and hands of her dedicated team of caregivers and friends. It was rather remarkable considering the nature of the diseases and her prolonged progression that she was able to stay in her home, which was only made possible because of the many, many people who pitched in and helped in countless ways. As they attest, she never lost her astuteness to her medical needs of the day, her overall well being, her relationships, and the events in the bigger world. Also noted, and it's no secret, Merlin was her favorite when it came to tending her needs!
Above all, she loved God. She enjoyed learning and soaking up everything about the Creator and Sustainer of all things good.  She lived everyday with grace and gratitude. She loved her family fiercely, involving herself in all ways possible with each of their lives. Her circle of influence went far beyond family, friends, and certainly generations. Everyone she encountered left with a bit of her. Her legacy is splendidly alive!