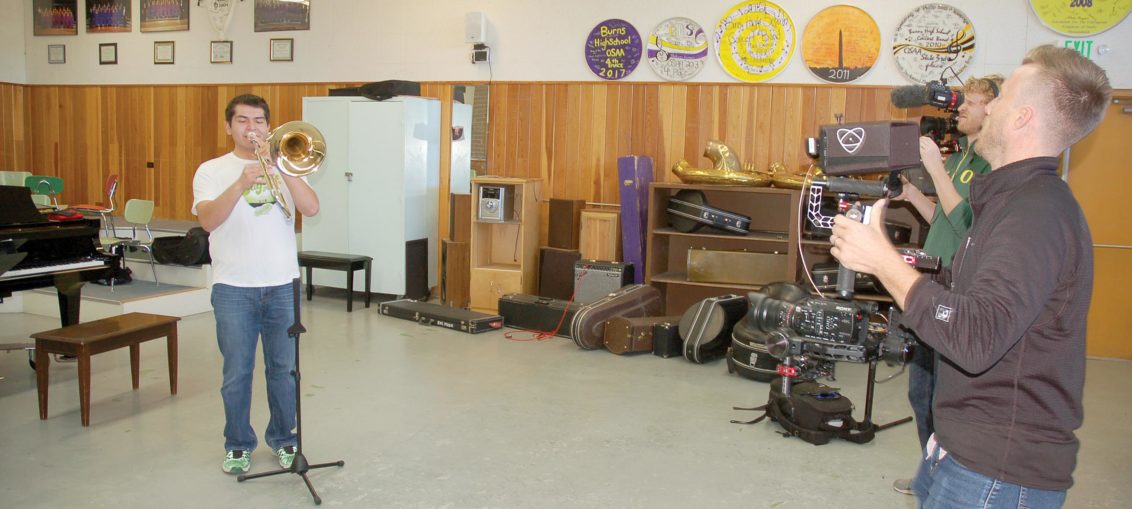 Jon Caponetto, a 2015 graduate of Burns High School (BHS) and a member of the Burns Paiute Tribe, will be featured in an upcoming promotional video for the University of Oregon.
CC Wright, coordinator of Native American recruitment for the university said Caponetto was selected as an example of Native Americans excelling on campus, not only academically but socially as well.
"We want to acknowledge the students' accomplishments, especially those from small communities who come to the University of Oregon," Wright said.
Caponetto is majoring in music education, and was recently selected to play trombone in the university's symphony orchestra. He also played with the school's marching band for two years.
Caponetto was also the recipient of a Gates Millennium Scholarship in 2015.
On Saturday, Oct. 7, Caponetto and the film crew were in Harney County to shoot scenes for the video. There were scenes of Caponetto running as he did while a member of the high school cross country team, walking the streets of the community, and in the band room, where he practiced his craft. The crew also conducted interviews with BHS teachers, including Ken Peckham, former BHS band director and mentor for Caponetto's senior project.
The day ended with a pizza party at the Gathering Center on the Burns Paiute Reservation.
The video will air on the University of Oregon website in November, which is Native American Heritage Month, and will run from one to two minutes in length.