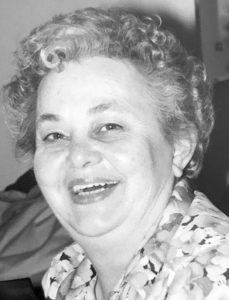 Jeannine Yvonne Hagele, formerly of Boise, Idaho, and Burns, passed away April 23, near her home in Sacramento, Calif.
Born July 3, 1928, in Bow Island, Alberta, Canada, as Edith Viola Spiers to William Housley and Mae Middleton Spiers, Jeannine was adopted by John Lawrence Johnson and Laneita Irene Johnson (nee Pfost) of Boise. The adoption of Carol Francis Nutting (nee Johnson) (Oct. 10, 1936 –Oct. 31, 1998) added a younger sister to the family.
The Pfost family is able to trace their Idaho lineage back to Isaac W. Pfost who arrived in Boise from Missouri in July 1878, 15 years after Idaho became a territory, and 12 years before Idaho became a state. As an adult, Jeannine was active in organizations that preserved and celebrated Idaho's history and reveled in an enriched sense of identity when she became a U.S. citizen.
While attending Walla Walla College Academy in College Place, Wash., a private school affiliated with the Seventh-day Adventist Church, Jeannine cultivated many friends with whom she remained close her entire life. Although raised in the Adventist faith, Jeannine never let the confines of any one denomination limit her Christian values.
Jeannine and Walter Leroy Mahan (May 4, 1928 – Oct. 10, 1970) were married Feb. 1, 1947. Walter and Jeannine started their family with the birth of Donald Lawrence Mahan (Jan 8, 1948 – ), Nancy Lee Code (nee Mahan) (April 16, 1949 – ), and Joseph Dale Mahan (Sept. 1, 1950 – ). Walter was a musician of some notoriety and entertained patrons in various clubs and restaurants throughout the Pacific Northwest. As an entertainer, Walter was often away from the family. Jeannine's marriage to Walter ended in divorce on Aug. 30, 1954.
Jeannine married Glenn Fred Hagele (July 28, 1924 – Dec. 15, 2003) Oct.1, 1956, in Winnemucca, Nev. Glenn was the son of Fred John Hagele (Hägele) and Magdalena Mae Hagele (nee Meier), both from South Dakota. Glenn's previous marriage had produced five children, David Glenn Hagele, Patrick Michael McCarthy (nee Fred Hagele), Marlena Cecelia Spray (nee Hagele), Kenneth Wayne Hagele, and Mildred "Milly" Majella Jimenez (nee Hagele). Jeannine and Glenn continued their immediate family of Don, Nancy, and Joe with the birth of Glenn Fred Hagele Jr. (June 1, 1957 – ) and Margaret Mae Weaver (nee Hagele) (March 21, 1963 – ). There were 10 children between Jeannine and Glenn with grandchildren, great-grandchildren, great-great-grandchildren, stepgrandchildren, stepgreat-grandchildren, and stepgreat-great-grandchildren too vast to enumerate here.
Jeannine's professional career as a bookkeeper started with assisting the controller at Ganger and Grover Motors of Burns, where Glenn worked as a service writer. After moving to the Sacramento area on Friday, Oct. 13, 1967, Jeannine aided Glenn's brother, Lee Roy Hagele, with various accounting projects. Although primarily a home maker, Jeannine was ever willing to do her part as Glenn established himself in the auto repair industry, ultimately retiring as a diesel mechanic from FB Hart of Sacramento, a Peterbilt truck dealership. For more than 25 years, Jeannine applied her accounting abilities in the medical billing service operated by her daughter, Margaret.
Jeannine was dedicated in assisting those whose circumstances had created limitations beyond their control. She formed the not-for-profit Service for Others as a framework for her multiple efforts. Jeannine tirelessly visited senior centers and care homes bringing projects, entertainment, and her own friendship. Her devotion to public service can be traced back to the social conscience of her mother and grandmother, Bessie Pfost, which included annual visits to hospitals with May baskets decorated in spring colors full of treats and gifts. Jeannine's grandfather, Emmett Pfost, was elected to serve the public as Ada County, Idaho Sheriff for multiple terms.
Relationships were always cultivated and friends were often long lasting. Many a bridal and baby shower was hosted in Jeannine's large house. The family home served as a "second church" to the Seventh Day Adventist congregation in Burns. Family and friends were always welcome to dinner and to stay the night in Jeannine's home. In one 12-month period, there were fewer than 10 days when the house in Boise was not filled with visitors. Before electronic media allowed an instant glimpse into friends' daily lives, Jeannine was a voracious letter writer, and you could almost set your clock by her long-distance telephone calls to friends at 7 p.m., when the rates were lowered.
Keeping everyone abreast of the family goings-on became an annual tradition with clever and unique Christmas cards. Friends and relatives would delight upon opening the handmade cards, always with a poem or sonnet about the previous year. One time, the holiday message was written on the back of a piece of wallpaper, wishing the recipient a loving "piece of our home". Knowing her time was short, Jeannine designed the Christmas card for this year as a final parting gift.
After Glenn's passing, Jeannine's relationship with long-time family friend, John McClure, bloomed to fill her final years with kindness, understanding, loving, and music. Jeannine often accompanied John to his performances as a talented musician.
A graveside memorial service will be held at 2 p.m. Friday, Oct. 6, at Fair Oaks Cemetery, 7780 Olive St. in Fair Oaks, Calif. In lieu of flowers, donations in honor of Jeannine may be made to the Parkinson Association of Northern California or the Sacramento Affiliate of the American Heart Association.