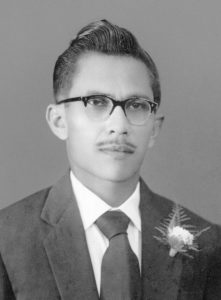 Romauld "Ray" Valentine Pietersz passed away peacefully Sept. 14, with his family by his side.
Ray was born Feb. 7, 1924, in Colombo, Sri-Lanka, to Colinwood and Anastasia (Stainwall) Pietersz.
Fifty years of his life were spent in Colombo, and the rest of his life was spent in Hines.
He attended St. Matthews School in Colombo from the first grade to the twelfth grade.  He married the love of his life, Winona Felicia Gerturde Jansz, on Oct. 29, 1959, at St. Mary's Catholic Church in Colombo.
He worked for Brown & Company Ltd. as a foreman in the farm equipment division for 32 years. He moved to the United States in December of 1974, and worked for Jack McAllister at Harney County Farm Supply for one year. He then worked for Edward Hines Lumber Co. and Snow Mountain Pine until his retirement in 1990.
After retirement, Ray had the urge to continue working. He worked for the city of Hines, Jerry's Restaurant, The Apple Peddler, Safeway, and the Old Camp Casino. He was an avid gardener and loved working in his yard. He loved God and his family.  He was a lifelong Catholic and a member of the Holy Family Catholic Church in Burns.
Ray is survived by his wife of 58 years, Winona; daughters, Rozanne and husband, John Ebar, Cynthia and husband, Lane Carpenter; five grandchildren, Christopher Rutledge, Michelle Ebar, Andrew Carpenter, Lacy Carpenter and Brandon Carpenter; sister, Fortune De'Fontaine; and numerous cousins, nieces and nephews.
He was preceded in death by his parents, Colinwood and Anastasia Pietersz; brother, Radnor Pietersz; sister, Rita Pietersz; and son-in-law, Ernie Rutledge.
Recitation of the Holy Rosary will be held at 7 p.m. Friday, Sept. 22, at Holy Family Catholic Church. Mass of Christian Burial will be held at 10 a.m. Saturday, Sept. 23, at Holy Family Catholic Church, with burial to follow in the Burns Cemetery.
Contributions in his memory may be made to the Harney County Hospice.