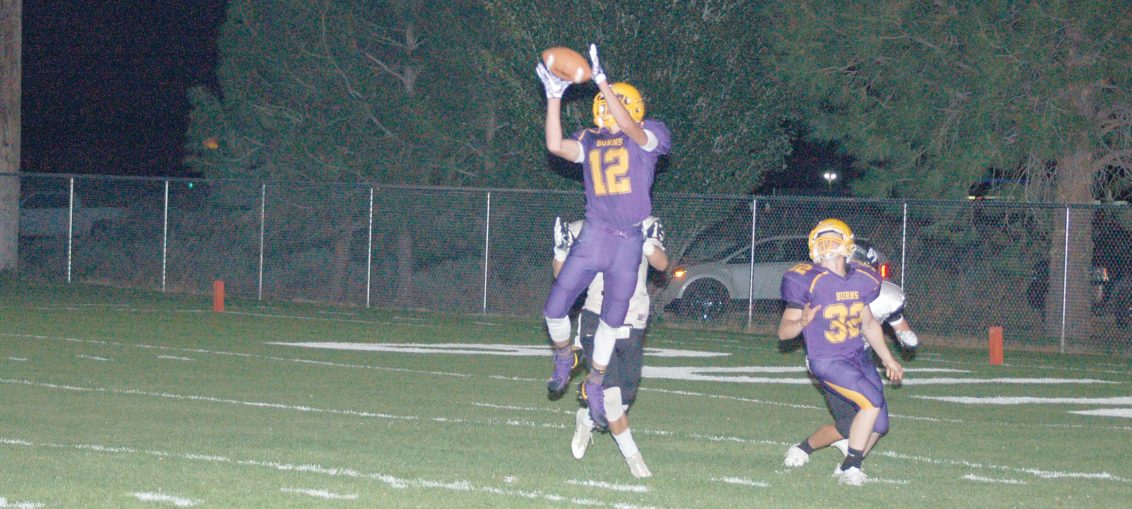 Sisters' Korbin Sharp intercepted a pass inside the 5-yard line with 15 seconds left in the game to preserve a season-opening 32-24 victory over Burns on Friday, Sept. 1, at Corbett Memorial Field.
The Outlaws trailed 12-6 at halftime, and then outscored Burns 26-12 in the second half for the win.
After stopping Burns on their initial possession, Sisters grabbed a 6-0 lead on a 92-yard punt return by Christopher Luz with less than two minutes gone in the first quarter.
The Hilanders tied the game with just over four minutes to play in the first quarter on a 25-yard touchdown pass from Bryce Goss to Zane Taylor.
Burns took their first lead of the game with five minutes left to go in the first half when Zane Bailey reeled in a deflected pass from Goss for an 80-yard score and a 12-6 advantage.
Following the break, Luz finished off a six-play, 59-yard scoring drive with an 8-yard touchdown run to even the contest at 12-12.
Burns started their next drive at their own 31, and on first down, Goss connected with Evan Gunderson for a 69-yard scoring throw to put the Hilanders up 18-12.
Sisters answered once again, churning out an 80-yard scoring drive capped off by a 2-yard run by Jake Stevens. Luz ran in the two-point conversion, and Sisters led 20-18.
The Outlaws' lead was short-lived, however, as Gunderson fielded the ensuing kickoff and raced 82 yards for the score, putting the Hilanders ahead 24-20.
Following a Burns punt at the start of the fourth quarter, the Outlaws had a first-and-10 at their own 24. Luz ripped off a 40-yard run on first down, and Stevens finished the two-play drive with a 36-yard TD run to give Sisters a 26-24 lead.
Burns had to punt on their next possession, and Sisters finished off a 61-yard drive with a 4-yard scoring run by Stevens with 7:32 left to play in the game.
Starting at their own 31, the Hilanders drove into Sisters' side of the field only to turn the ball over on a fumble.
The Burns defense forced the Outlaws to punt after three downs, and the Hilanders took over at the Sisters' 49-yard line. Burns moved the ball down the field, getting inside the Outlaws' 10-yard line with under 20 seconds to play. On first down, the Outlaws' Sharp intercepted Goss' pass across the middle to secure the win for Sisters.
Goss completed 22 of 44 passes for 440 yards, three touchdowns, and two interceptions.
Bailey caught seven passes for 199 yards and one TD, Taylor had five receptions for 103 yards and a score, and Gunderson had five catches for 112 yards and one touchdown.
The Hilanders picked up 83 yards rushing, led by Josh Reagle with 47 yards on six attempts.
The Outlaws piled up 340 rushing yards, led by Luz with 198 yards and a TD on 21 carries. Stevens finished with 125 yards and three scores on 16 attempts.
Luz completed four of 10 passes for 62 yards and one interception.
Sharp had two receptions for 59 yards to lead the Sisters receiving corps.
Burns will be on the road for their next game as they travel to Lakeview on Friday, Sept. 8. Kickoff is set for 7 p.m.
In other games involving Eastern Oregon League teams, Umatilla topped Union 28-15; Amity beat Irrigon 14-0; Vale defeated Parma, Idaho 48-29; and Nyssa downed Baker 33-6.
Sis     6     0    14    12      32
Bur    6     6    12      0      24
First quarter
Sis — Christopher Luz 92 punt return (Kick failed) 10:07
Bur — Zane Taylor 25 pass from Bryce Goss (kick failed) 4:14
Second quarter
Bur — Zane Bailey 80 pass from Goss (pass failed) 5:00
Third quarter
Sis — Luz 8 run (run failed) 9:33
Bur — Evan Gunderson 69 pass from Goss (pass failed) 9:18
Sis — Jake Stevens 2 run (Luz run) 7:06
Bur — Gunderson 82 kickoff return (pass failed) 6:46
Fourth quarter
Sis — Stevens 36 run (run failed) 11:21
Sis — Stevens 4 run (run failed) 7:32
Individual statistics
Rushing — Burns, Goss 6-24, Reagle 6-47, E. Gunderson 3-11, Mick Winn 1-1. Sisters, Stevens 16-125, Luz 21-198, Morgan 4-17.
Passing — Burns, Goss 22-44-2 440. Sisters, Luz 4-10-1 62.
Receiving — Burns, Bailey 7-199, H. Gunderson 2-6, Taylor 5-103, E. Gunderson 5-112, Maupin 2-18, Reagle 1-2. Sisters, Friend 1-6, Stevens 1-(-3), Sharp 2-59.