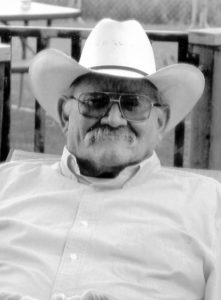 Ronald William Hawkins passed away July 7 in Turlock, Calif. He had been cared for at Turlock Nursing and Rehabilitation Center since April.
Ron was born Oct. 8, 1937, in Modesto, Calif., to Fred Robert and Marian Irene (Lemkuhl) Hawkins.
Ron attended Waterford elementary schools and Oakdale High School. He married Rexann Taylor in 1959 after meeting at an Oakdale Saddle Club team roping. They moved to San Luis Obispo while he attended college. He graduated from Cal Poly San Luis Obispo with a bachelor's degree in animal husbandry. While at Cal Poly, he was a major competitor on the rodeo team. In 1961, he finished second in the nation in steer wrestling at the National Intercollegiate Rodeo Association National Finals. After graduating from college, Ron and Rexann moved to Shafter, Calif., where Ron managed a breeding program for Bob Burnquist. Then, they moved to Sacramento where he ran LaVar Larson's stable of racehorses for several years. Next, was a move to Vacaville where Ron trained his own racehorses and some of Larson's. A brief break from the racehorse business took them up to Burns to work cattle with Rexann's folks, Rex and Elta Taylor, and in 1968, they returned to California and trained racehorses on Milnes Road with Everett Boothe for the next 30 years, enjoying great success. One of the most memorable horses that Ron trained was named "Head Pin" who set numerous records and won 26 races. Ron was awarded "Leading Trainer" on the fair circuit several times.
In 2000, Ron and Rexann moved out to the Hawkins Ranch and lived in the old homestead house until 2016 when they moved to a new house on the property. Ron lived for his family and will be remembered as a loving husband, father, brother, brother-in-law, grandfather, uncle, cousin, and friend. His amazing and well-known sense of humor was on display right to the end.
Ron is survived by his beloved wife and partner of 57 years, Rexann (Taylor); children, Robin (George) Shine of Adel, Ross (Lisa) Hawkins of Waterford, Calif., and Rod (Wendy) Hawkins of Livingston, Calif.; siblings, Meredith (Mike) Gatzman of Livermore, Calif., Gail (Dee) Jaspar of Bakersfield, Calif.; and brother-in-law, Buck (Lindy) Taylor of Diamond; eight grandchildren, Katy (Toby) Joyce of Prineville, Danyelle (Brian) Peters of Hood River, Dusty (Kenny) Haigh of Princeton, Rex (Tiffani) Hawkins of Atwater, Calif., Alexa (Brandon) Hitchcock of Livingston, Calif., Wade (Sophie) Hawkins of Hickman, Calif., Russell Hawkins of Davis, Calif., Reid Hawkins of Denver, Colo.; as well as seven great-grandchildren, Taylor, Tanner, and Brendan Joyce, Maddie and Luke Peters, Bella Haigh, and Rex Hawkins, with two more due in August; plus 11 nieces and nephews.
He was preceded in death by Donald Robert Hawkins, 1939-1942.
A service will be held at 10 a.m. Saturday, July 29, at the Community Baptist Church on D St. in Waterford. A celebration of life will be held immediately after at the Oakdale Saddle Club.
The family requests remembrances be made to the Wounded Warriors Project (woundedwarriorproject.org) or the Modesto Gospel Mission (modestogospelmission.org).
SaveSave
SaveSave