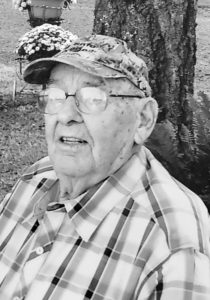 John Lagler, 90, passed away July 11 at home in Veneta, surrounded by his family.
John was born in Wray, Colo., to Fred and Julia Lagler. He was one of eight children.
He was married to Joyce Shell, his love of 70 years, and they have been blessed with six children.
We invite you to take a moment to remember the life and legacy of John Lagler.
John was a hard-working, self-made man of many talents — an entrepreneur, inventor and pilot. He was a forward-thinking businessman, who pushed the industries he worked in and fiercely supported the educative processes that keep these industries alive and viable today.
John was a larger-than-life presence in the communities that he lived in. He invested in his community and served on the Mapleton School Board and Mapleton Fire Board, and he contributed to the development of the Mapleton track & field and community swimming pool.
He raised his family and built two businesses while living in Mapleton: Lagler Logging and Lagler and Son Construction.
John was one of the founding fathers of Associated Oregon Loggers. He was a pioneer in the logging industry safety program, being the first company to offer Green Stamps as incentive for his crew. He started a scholarship program at Associated Oregon Loggers, called Log A Load For Kids. He was extremely passionate about education.
He received many awards for his logger's safety program and coined the motto "Safety Doesn't Happen, Accidents Do." He was also recognized by the Agricultural Department for his development of the Lost Springs Ranch and the Rock Creek Upper Reservoir Dam.
Be the crummy ride short or long, John was committed to his employees. He led by example to motivate his crew to perform their best. He was passionate about fairness, honesty, and respect. In the words of Buzz Martin, "Where there walks a logger, there walks a man."
In 1980, John and Joyce moved to Burns. They owned and operated the Lost Springs Ranch, developing into respected ranchers. Later, they moved to Bend and developed properties there before retiring to Veneta. In retirement, John took up his passion for metalworking, woodworking, and gardening. He loved hunting and camping.
John is survived by his beloved wife, Joyce; five daughters; 15 grandchildren; 17 great-grandchildren; and one great-great-grandchild.
He was preceded in death by his son, Michael Wayne Lagler.
The service will be held at St. Mary, Our Lady of The Dunes Catholic Church in Florence, at noon Friday, July 21. In lieu of gifts, his family requests that you graciously make a donation in John's name to the Associated Oregon Loggers Scholarship Fund at Oregon State University http://www.oregonloggers.org/scholarship.aspx, or Log a Load For Kids at Associated Oregon Loggers http://www.oregonloggers.org/Logaload.aspx. Burns's Riverside Chapel Florence Funeral Home is in charge of arrangements.