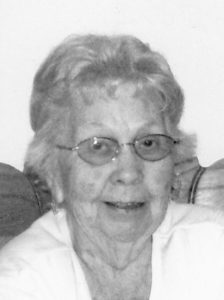 Martha "Bea" Beatrice Keith, 88, a Prineville resident, passed away on Monday, June 19, at her daughter's home surrounded by family.
Bea was born March 24, 1929 to John Cornelius and Ruby Lee (Spencer) Woolsey in Tuskahoma, Okla.
She married Jay T. Keith July 6, 1946 in Fort Smith, Ark. They were married until his passing on Dec. 27, 2003. The couple settled in Burns in 1948 then moved to Prineville in 1997.
Bea was a homemaker, enjoying cooking and gardening, and was known for her outstanding crochet needlework. She enjoyed the outdoors, spending time with family, hunting, fishing, and camping. Bea resided at the Carriage Place Senior Living for the last three and a half years of her life, enjoying her friends there and two of her favorite activities — Bingo and Scrabble.
She is survived by her son, Dennis (Cindy) Keith; daughters, Sandra (Tim) Erickson, Carolyn Englestadter, Julia (Ken) Sexton; 11 grandchildren; 21 great-grandchildren; and one great-great-grandson; and numerous nieces and nephews.
She was proceeded in death by her parents, three brothers, and two sisters.
A graveside service was held at the Burns Cemetery (430 W. Monroe) at 1:00 p.m. on Saturday, June 24. Pastor Clyde Smalling of Prineville Praise and Worship Center officiated. A no-host reception was held at Glory Day's Pizza in Burns following the service.
Contributions may be made to the charity of your choice in Bea Keith's name through Whispering Pines Funeral Home at 3168 NE 3rd Street Prineville, Oregon 97754.
(541) 416-9733.
wpfh1@hotmail.com
SaveSave
SaveSave
SaveSave