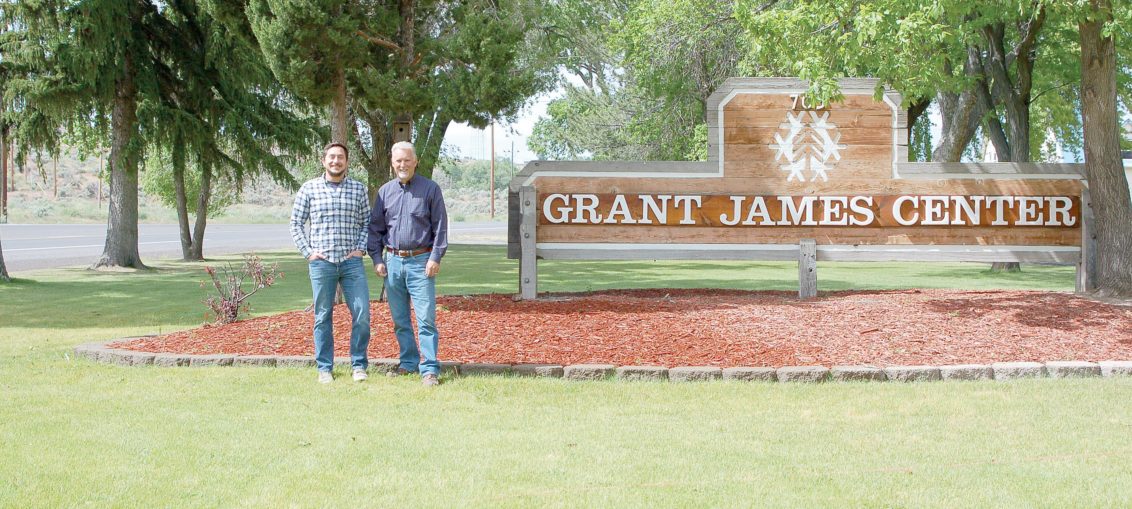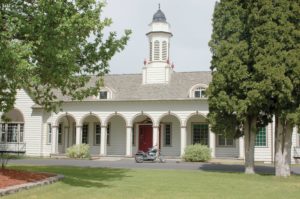 Licensed June 12, the Grant James Center (GJC) is preparing to accept clients.
Located at 705 Hwy. 20 S. in Hines, the 22-bed residential facility will provide individual and group substance use and mental health therapy for adult males.
Craig LaFollette — who is the GJC chief executive officer, owner, and founder — stated that the center is "the culmination of a family's dream to assist those who have substance use and co-occurring mental health issues in their lives."
He said, "GJC was founded by the Craig J. LaFollette family and friends who personally experienced the devastation and destruction that substance use can wreck upon families."
The center was named for LaFollette's son, Grant, who has battled addiction throughout his adult life.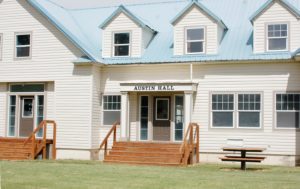 "Choosing the name was really, just as I said, a family's way of acknowledging the fact that the struggles of addiction are real, and they affect everybody," LaFollette said.
The GJC campus consists of two buildings. The main building will be used for client intakes, bookkeeping, and meals. Clients will live and attend meetings/clinical sessions in the second building, Austin Hall, which was named after LaFollette's younger son, Austin, who assisted with renovations.
"I called it Austin Hall because I have a kiddo named Austin. He worked his little rear off helping me get it to the condition that it is in now," LaFollette said, adding that he's passionate about providing a warm and welcoming facility.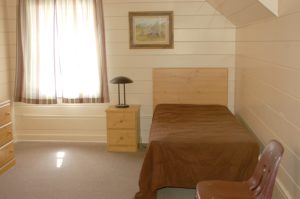 LaFollette said one of the challenges in opening GJC was finding qualified people to provide treatment services.
"And then there's Shad [Thomas]. His name was presented to me, and he loved the passion and the idea of being able to help others and be at the forefront of starting a new facility like this. Bringing somebody of the caliber that Shad is into this community is pretty awesome," LaFollette said.
Thomas moved to Harney County in March and has been working behind the scenes to help get the facility up and running.
About Thomas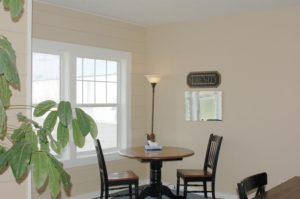 Prior to launching a career in social work and behavioral health, Thomas served as an infantryman with the Oregon National Guard and Army from 2002 to 2009. He served in Iraq from 2004-2005.
Afterward, he decided to go back to school, earning a bachelor's degree in applied psychology from Oregon Institute of Technology (OIT) in Klamath Falls. He continued his education at the University of Southern California, obtaining a Master of Social Work.
After college, Thomas took a job running Transformations Wellness Center in Klamath Falls, which is a coed facility that treats mental health and substance abuse issues.
"I spent a couple of years there. It was a great experience, wonderful people," Thomas said.
He was then hired as the outpatient program supervisor for New Directions Northwest Inc. in Baker City.
"My primary job was to really integrate their substance abuse and mental health [treatment,]" Thomas said. "You can't effectively treat an individual separately for those issues because they're far too intertwined. You really got to address both at the same time."
After three years at New Directions, Thomas moved to Harney County to accept the clinical director position at GJC.
"Craig came knocking with an offer I couldn't refuse. I'd always wanted to be involved in residential again. I really like it. I'm very passionate about it."
Thomas added that he also prefers gender-segregated treatment because he believes, "Too many issues and barriers to treatment and addressing issues come up when you mix the genders."
Thomas is a Licensed Clinical Social Worker. He is also a Certified Alcohol Drug Counselor III, which requires a master's degree and is the highest level for co-occurring substance abuse and mental health counseling.
Job opportunities
Although Thomas will be providing the bulk of individual and group counseling at GJC, he said he's definitely looking for more clinical help.
"I'm a big believer in kind of growing your own counselors and bringing them up in the culture, especially in a residential facility," he said.
Thompson, who taught psychology at OIT, said he loves teaching and "helping professionals grow."
LaFollette said GJC already hired five local people and is looking to hire additional employees.
"It was very important to me to be able to bring some jobs to our community," he said.
Much-needed services
In addition to offering employment opportunities, GJC will help fill a gap in services.
Regarding substance abuse and mental health treatment, Thomas said, "It's a huge need in the state and really across the country."
He explained that, "Oregon continually ranks the lowest, usually in the lowest five, for behavioral health treatment in the country, both substance abuse and mental health." He said, "The wait times for male beds, specifically for residential substance abuse treatment, can be as long as two months," adding that, "If you have an individual who is ready to make the leap to get into residential treatment…and you tell them, 'Oh, well I'm glad you're excited right now, but really it's going to be a couple of months,' by the time their bed rolls up, they're not motivated anymore. They've moved on. They've lost hope."
He explained that, "Asking for help for anybody is hard, and especially for somebody who has a problem that's viewed so negatively in our culture. The stigma behind substance abuse treatment, and even to some extent mental health treatment, is terrible. So when they finally say, 'I'm ready. I don't care who knows. I need help,' you've got to be able to get them then, not two months from now. So I'm really happy that we're going to be increasing the bed count for the state."
LaFollette said GJC will be accepting referrals for adult males from all over Oregon and out of state.
"As of Monday [June 12], we printed the brochure. We're mailing hundreds of those out, and so now we are in the process of getting the word out, letting people know that we are open," he said, adding that the center couldn't begin advertising until it received its license.
Thomas said, "There's been a lot of interest in the facility already from across the state. We should be bringing folks in here pretty soon. We plan on trying to bring in a large enough group of them, close enough together, so that we can actually provide good group therapy."
When asked whether local clients would be accepted, Thomas replied that addressing the community's needs is the center's number one priority.
"This is where we all live and raise our families, and nothing would make us happier than to snuff out substance abuse in our community, even though, unfortunately, it's a stretch of the imagination," he said, adding that the benefits of getting even one person to stop abusing substances would be far-reaching.
Battling the stigma
LaFollette said some local community members have expressed anxiety about people with addiction coming into the community.
"Yeah, we're going to have people from all over the state come here for treatment," Thomas said. "And they're going to go back to the communities that they're from better people. And the people that are from here, they're going to come [to GJC] for residential treatment. We're going to do great work with them. We're going to send them over to our partners at Symmetry Care. They're going to continue outpatient treatment with them, and things are going to be great. They're not going to cause disruptions. They're not going to be out running around. There are lots of rules and regulations within substance abuse treatment — a lot more than [they were] able to have with kids. These are adults. They do have problems, and we're going to address them. It doesn't mean that they're going to come here and squat. And, to be completely honest with you, we're going to do good enough work that if people come here and get better, we're not going to want them to leave. We're going to want them to stay."
He explained that clients who successfully complete treatment will go on to become productive members of society, while those who don't will most likely return to the communities that they're  from.
"They're going to go back to where they used, back where they know people, back where they feel safe. They're not going to stay here with unknown people," Thomas said.
He added, "These aren't inherently bad people. These are people that have been dealt a really crappy hand, and our job is to help them and not judge them because of their substance abuse."
Thomas said, "People like to view substance abuse as everybody else's problem — that it's not in this community, [and] that, somehow, our community is above it." However, he asserted that, "Substance abuse is prevalent in every, single community," adding that it's especially common in rural areas.
According to Thomas, research shows that most people in the United States are connected to at least one person who has a substance abuse problem.
"Be it alcohol or drugs, somebody knows somebody or is related to somebody that does. It's that prevalent now," he said, adding that, "Substance abuse is a product of our society, and it isn't a moral failing."
Thomas explained that many of his previous clients were sexually abused as children or exposed to some other form of pain, suffering or trauma, and they use drugs as a coping mechanism.
"It's funny to me that we treat behavioral health and substance abuse as such moral issues," Thomas said, adding that one of the challenges of his job is fighting stigmas.
"As a society, we require that individuals that suffer with substance abuse issues self-identify as addicts," Thomas said, adding that there's a misconception that you can shame someone until they stop using drugs. "The problem is, that most of these people grew up being shamed from before they could walk, so it's just piling on at this point."
He added that substance abuse is now being identified as a chronic condition.
"It's no longer classified as a behavioral issue. There are behavioral components to it, but it's a chronic issue, just like diabetes. And if you don't manage it, if you don't treat it, it will get worse, and it will cause death. But if you treat it, and you treat it correctly, the behavioral problems go away. The societal problems go away," he said.
A different approach
Thomas said that, through substance abuse treatment, clients are taught to think in a new way and find new methods for coping with stress.
The GJC's brochure states, "Our use of proven, evidence-based programs, combined with the latest research and interventions delivered in a setting designed for men, allows for the most effective treatment available. This is where you come if you want to find yourself and set a positive path for your future. This is your treatment. You know you better than anyone else. You tell us your goals, what you want to change, and we will help you get there."
Learn more
Regarding the GJC, Thomas said, "We're a pretty open book. If anybody ever wants to stop by, we're a phone call away."
For additional information regarding the Grant James Center, call 541-573-7303 or email info@gjamescenter.com