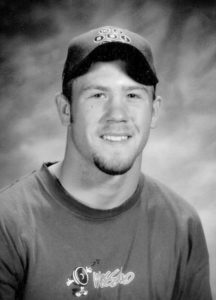 Cody Shaun Hodges  passed away May 29 in an automobile accident in Lynden, Wash., at the age of 37.
He was born June 2, 1979, in Bend, to John and Christine (McCulloch) Hodges. Cody grew up with his half sister, Becky, in the small town of Burns as a carefree child who loved to explore, hunt, and go on countless outdoor adventures. Cody was athletic and fiercely competitive, participating in many sports. He particularly excelled in wresting, earning many state titles, and attended Boise State University on a wrestling scholarship. He was also a die-hard fan of Dirk Nowitzki and the Dallas Mavericks, along with the Oregon Ducks.
Cody was well-read, highly educated, and an intellect at heart. He earned his bachelor of arts in history and a masters in political science (public policy and administration) from Boise State University. He had goals and aspirations of pursuing additional degrees and courses of study. Along with his desire to learn, he was gifted with his hands and a mechanical mind. He learned the trade of heavy equipment repair from his dad and used it throughout his life. Cody could fix anything and wouldn't stop until he figured it out.
Cody married the love of his life, Kimberly Kolar, July 31, 1999. Together, they have three children, Aanikka (15), Kyas (12), and Athena (10). He loved his children and family with all of his being and was a very proud and doting father. He was also a dog-lover and had many loyal companions by his side. Cody had a generous and giving heart and was always there to help when he could. He had a way of connecting with people and never knew a stranger. He was even honored as a Red Cross hero for selflessly pulling a man from a burning vehicle in 2013.
Cody was faced with challenges and struggles in this life, particularly with alcoholism. Out of these difficulties, Cody wanted to use his life to help others. He wanted good to come of his pain by bringing awareness to addiction and emotional challenges. Despite these adversities, Cody was highly resilient and rose above potentially life-threatening circumstances numerous times. Most importantly, Cody drew close to his Lord Jesus Christ and had a spiritual awakening when he was at his lowest point. It was then that he truly experienced his time of greatest peace. The day he passed away, his inspirational calendar providentially read, "O Lord, put a new song in my mouth, a hymn of praise to you. Let my struggles be a witness to all that you are God and there is no other. Let those who peer into the midst of this chaos see that you are a faithful and mighty God. That you are full of love and compassion."
Cody is survived by his wife, Kimberly (Kolar) Hodges; children, Aanikka, Kyas, and Athena Hodges; his parents, John and Christine Hodges; his half siblings, Chandra Dickinson, Glen "Butch" Hodges, and Becky Pearson; Grandma Bunny (Bernice Pope); as well as many aunts, uncles, cousins, nieces, nephews, and friends.
He was preceded in death by his grandparents, Jim Pope, Richard McCulloch, and Lois and John Oscar Hodges.
A celebration of life service will be held at 11 a.m. Saturday, June 10, at Birchwood Presbyterian Church.
In lieu of flowers, donations may be made to the Hodges Children College Fund at Whatcom Educational Credit Union. You may share memories with the family at www.westfordfuneralhome.com.