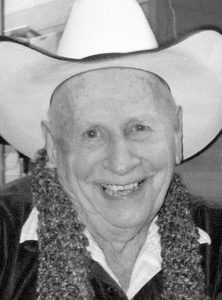 H. Donald Elvin McGhehey passed away peacefully Dec. 18, 2016, in his home in Redmond, surrounded by loving family and church friends.
Donald was born to Robert and Myrtle McGhehey Sept. 10, 1922, in Portland. The family moved to Klamath Falls when Donald was 3 months old. Two years later, his little brother, Robert Stanley, was born.
Donald enjoyed riding his bike from Klamath Falls to his grandfather, Robert Valentine Ess', homestead ranch after school to help with the animals and to do chores. In high school, Donald was a 4-H member and basketball player.
After graduating from Klamath Union High School, Donald served his country in the military and was a corporal in the Army. He married Grace Gloria Burt Nov.14, 1951, in Klamath Falls.
Donald purchased the Ess Homestead from his grandfather, and the ranch later became the LaWandy Heights Subdivision on the Keno Highway.
Donald and Grace owned cattle ranches in Mitchell; Hammett, Idaho; and Burns (at which time they retired). They later moved to Prineville and lastly to Redmond.
As a young man, Donald enjoyed snow skiing, water skiing, and working with cattle and horses. He was also a 4-H leader for his children's beef and horse programs. Later in his life, Donald became a member of the Assembly of God church, rededicating himself to loving his Lord Jesus Christ. He enjoyed playing pinochle, he loved ranching, and he would watch any television show with a horse or herd of cattle in it. He especially loved his large family. Spring branding was a special time of year, as his "family herd" gathered together for this event. His family treasures these memories.
Donald is survived by his caring wife, Grace, of 65 years; and children, Terry McGhehey of Rockdale, Texas, Lonnie McGhehey of Caldwell, Idaho, Wanda Tracy Barkhurst and Cindy Huddleston McGhehey of Crooked River Ranch, Russell McGhehey of Tigard, and Linda Harder of King Hill, Idaho. Donald is also survived by 10 grandchildren; 20 great-grandchildren; and one fifth-generation grandchild.
He was preceded in death by his parents and brother.
A memorial Celebration of Life will be held at the Terrebonne Assembly of God Church on Saturday, May 27, at 1:30 p.m. with a barbecue to follow. Friends and family are invited to come share this special time with us.