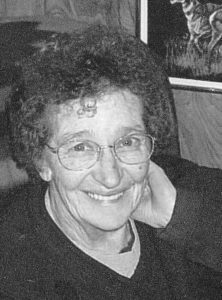 Bernita Louise Johnson passed away April 25.
Bernita was born July 3, 1934, to Charles and Rosa (Chrisler) Whitman. Bing made her way into the world in the back of a car near Paradise, Kan.  She was the third daughter, with older sisters, Betty Lou and Bonnie. A brother joined the family, Bobby (also known as Butch).  He couldn't pronounce his older sister's name and Bernita became Bing. That is the name most people knew her by.
Charley worked in the oil fields in the late depression Midwest. The family traveled often. Rosa said she would pack for the next move only to have her kids "help" her and unpack them. The Chrisler and Whitman families were close, and Bing and her siblings spent a lot of time at family farms playing with cousins. She attended a small, rural school.
When Bing was 6, Charley was killed in an accident. For a time, Rosa tried to support the family in Kansas, but later moved to New Plymouth, Idaho, looking for a new start. It was there she met and married Ralph Moss, a widower, who had a son, Clinton.  The blended family then moved to Hines, where Ralph worked for the Edward Hines Lumber Company.
Bing was active at school, apart from a year convalescence because of  rheumatic fever. She was a tomboy and played football with the neighbor kids, volleyball, and softball at Burns Union High School.  She cheered at her brother's basketball games.
Following graduation, Bing worked for Avel and Mae Diaz's dry cleaning business. It was there she met a young Air Force radar operator who had brought in uniforms to clean. George (Pete) Johnson followed her home.  After a whirlwind courtship, the couple eloped to McDermitt, Nev., on Sept. 22, 1957.
Following the birth of their first child, son Thomas, the couple moved to Pete's hometown of Junction City. Daughters Barbara and Karen completed the family. She worked for the Sears Catalog division in Eugene, and for the Junction City Monaco Motorhome factory for 25 years.  As the children grew, many of their friends called the Johnson residence their home away from home.  Bing also helped care for Pete's parents in their declining years.
In 1997, Pete and Bing returned to Burns. About 10 years ago, she developed Alzheimer's and spent her remaining days in Ashley Manor.
Bing always had a sense of humor, even when she tried to be angry. It was fun to be a passenger in her car as she tried to find parking and would mumble and threaten under her breath.  If something struck her as funny, she would laugh until tears, sigh, and start over again. Once she laughed nonstop from Albany to Junction City over something that happened in a restaurant. Thinking about it years later would get her going as if it had just happened.
The early stages of the disease did not stop her humor. One day, she walked out of her bedroom wearing a tablecloth as a cape and panties…and that was all. Pete asked her if she thought she was Superman.
"No, I am Wonder Woman." She then ran around the house. One Halloween, she tried to give her great-grandson, Jake, doggy kibble in his trick or treat bag. When he declined, she said, "Suit yourself," and helped herself. She loved to goose people, and losing her inhibitions to Alzheimer's meant she had a pastime to share with everyone.
Bing's hobby was her family. If Pete went fishing or hunting, she was there. The two traveled to the Grand Canyon, Zion and Bryce canyons, and Mt. Rushmore. She, her mom and daughter, Barbara, drove back to Kansas to see relatives and the old homesteads. A few years ago, Pete, Bing, and the adult children took a trip to Yellowstone; it was the last family trip she got to make. She played catch with Tom, until he broke her finger when she was in her 40s; and taught Barbara and Karen to cook and bake.
She made the world's best apple pies, spaghetti, and potato salad. Her biscuits, however, weren't so good. The only time she baked them, Pete and Tom played floor hockey with brooms in the living room. She didn't bake them again for about 20 years.
Her other loves (in no particular order) were Patsy Cline (Cline's greatest hits were played as guests arrived), NASCAR, the dogs the family had through the years, Daffy Duck, and Black Hills gold jewelry bought from her favorite jeweler, Mavis Oard.
Bing is survived by her husband of 59 years, George (Pete) Johnson of Burns; son, Thomas Johnson of Junction City; daughter, Barbara (William) Pearson of Pilot Rock; daughter, Karen (Felix) Zabala of Burns; step-granddaughter, Rebecca; grandsons, Jed, Jesse, and Anthony; granddaughter, Samantha; five great-grandchildren; brothers, Bobby (Butch) Whitman of Meridian, Idaho, and Clinton Moss of El Paso, Texas; several cousins, nieces and nephews.
She was preceded in death by her father, Charley Whitman; mother, Rosa Moss; stepfather, Ralph Moss; and sisters, Betty Lou Dealy and Bonnie Whitman.
Her life was celebrated on Saturday, April 29, at LaFollette's Chapel. Preston Jannsen (husband of Bing's niece, Willa Woodfin Jannsen) led the celebration. A reception followed at the Harney County Senior Center.
Contributions in Bing Johnson's memory may be made to the Alzheimer's Foundation. LaFollette's Chapel is in charge of funeral arrangements.  Please go online and sign the guestbook at www.lafolletteschapel.com