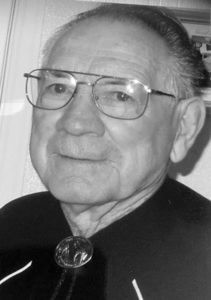 Louis Dale Hoke, 84, passed away April 11.
Louis was born June 13, 1932, in Borger, Texas. Louis was the first of eight children born to Clyde and Olive Hoke. When he was  six months old, the family returned to Nebraska, where both his parents were born.
In 1937, when he was 6 years old, the family migrated to the Owyhee district in Oregon. He started school and attended the Owyhee district school, six miles north of Adrian. In the seventh grade, the family moved to Nyssa.
At the age of 7, he started working in the fields. His jobs included shaking potato vines, picking potatoes, thinning and hoeing beets, and working in the packing sheds. It was common that the shifts in the packing sheds were 18 hours long, from 7 a.m. until 1 a.m. He would jig 100-pound bags of potatoes in grade school. He also worked as a pin setter at the local bowling alley in Nyssa to help keep food on the table.
Louis attended and graduated from Adrian High School. He participated in FFA, boxing and baseball. His love for baseball followed him throughout his life. He loved playing with his kids and grandkids as well as watching them on the field. He missed very few opportunities to watch his children and grandkids play sports or perform in choir, band, or other extracurricular activities.
He met his wife at Adrian High School. When Louis was a senior, he would walk the 11 miles on a regular basis to spend time with her. They were married a week after Betty graduated from high school on May 25, 1951. They were married just short of 66 years.
Louis worked as a farmhand the first four years of his married life until moving to Burns in 1955 to work for Edward Hines Lumber Company. He worked at Edward Hines until the mill shut down in 1980. He worked for Snow Mountain Pine until he became self-employed painting and doing chimney sweeps until his retirement in 1999.
He committed his life to his Lord in high school under the ministry of Youth For Christ.  Louis spent the rest of his life serving his Lord and Savior in many capacities. He attended Moody Bible Institute from 1957 until graduating in June of 1960 with the thoughts of becoming a pastor.  He served the Lord in the pulpit many times, preaching on his favorite subject, prophecy and end times. Another one of his ministries was music — it was always a special time for family and friends to watch Louis minister through his music. It may have been a solo, accompanied by his daughter, Alice, or the church quartet, consisting of Louis, Larry Asmussen, Cliff Asmussen, and Clell Rademacher, that sang together for many years.
Most of his ministries, like Louis, were quiet and out of the spotlight. He served his Lord on church maintenance throughout his life. He served as custodian for more than 50 years. He served as a trustee and deacon. He was content and satisfied to serve with diligence where no one knew that he was serving. He modeled a love for the Bible. His Bible was always next to his chair. Louis was a member of Faith Baptist Church in Hines for 60 years.
His first child, Alice, was born Dec 15, 1952, while Louis worked as a hired man in Adrian. His first son, Dale, was born Jan. 10, 1957, after moving to Burns. Anna was born April 11, 1959, in Chicago, Ill., while Louis attended Moody Bible Institute. His final child, Dan, was born Sept. 7, 1960, in Caldwell, Idaho, while the family was enroute back to Burns after graduating from Moody.
He loved the outdoors. He had a love and a passion for fishing and hunting, especially when it included his family and friends. He was an avid fisherman. He loved to share his passion for hunting and fishing.
Louis is survived by his lifelong love, Betty; his daughters, Alice and her husband, Dave, Anna and her husband, Bud; sons, Dale and wife, Trudi, Dan and his wife, Jen;  five grandchildren, Jacob Hoke, Randy Studebaker and wife, Shelly, Madison Hoke, DJ Hoke and Alicyn Hoke; and two great-grandchildren, Danny and Andi Studebaker.
Louis is also survived by one of his brothers, Wes Hoke; five sisters, Vivian Rookstool, Shirley Kruger, Kay Currier, Marilyn Garcia, and Clydette Hilliard.
Louis was preceded in death by his parents, Clyde and Olive Hoke; brother, Harold Hoke; and one grandchild.
A memorial service was held April 15 at Faith Baptist Church. Contributions in his memory may be made to Faith Baptist Church in Hines.