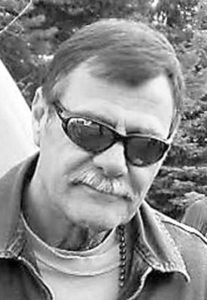 Claude Robert "Bob" Williams, 64, of McCall, Idaho, passed away Oct. 20, 2016, after a valiant battle with cancer, but his larger-than-life persona, charm, and trademark stubbornness will not be forgotten.
Bob was born Nov. 28, 1951, in Burns, the youngest son of John Williams and Ruth Balbach (Higby). A lover of the outdoors, Bob enjoyed many adventures in Chamberlain Basin as a teenager (even once "stealing" a farmer's donkey to ride to a nearby camp to visit a group of teenage girls).
Some of his favorite days were spent in the mountains of McCall, fishing the rivers and lakes.
Bob attended Links School of Business and was a successful silversmith. He took great pride in crafting one-of-a-kind items for his customers incorporating elk ivories, gem stones, and claws in his creations.
He opened The Stereo Shop in McCall in the 1980s, and he enjoyed a long career as a roofer when he opened All Seasons Roofing in the early 1990s.
Famously opinionated, a sharp-tongued character in his own right, Bob's heart was as big as the sky.  He dearly loved his four grandchildren who brought him much joy and amusement. Many afternoons were spent enjoying a Popsicle while sitting on the front steps with Papa Bob.
He will always be remembered for his love of music, NASCAR, collectible cars and funny gadgets.
Bob is survived by his mother, Ruth Higby of Boise, Idaho; two daughters, Nichole Harvey and family, and Betsy Davies and family; brother, John R. Williams, all of Boise; sister, Linda Whiting of Burns; and many other family members living in Idaho and Washington.
He was preceded in death by his father, John E. Williams.
Bob's daughters would like to sincerely thank all of his friends who helped see him through his battle.  Bob was a model of strong will and sheer determination right up to the end of his journey.
Arrangements were handled by Heikkila Funeral Chapel in McCall.