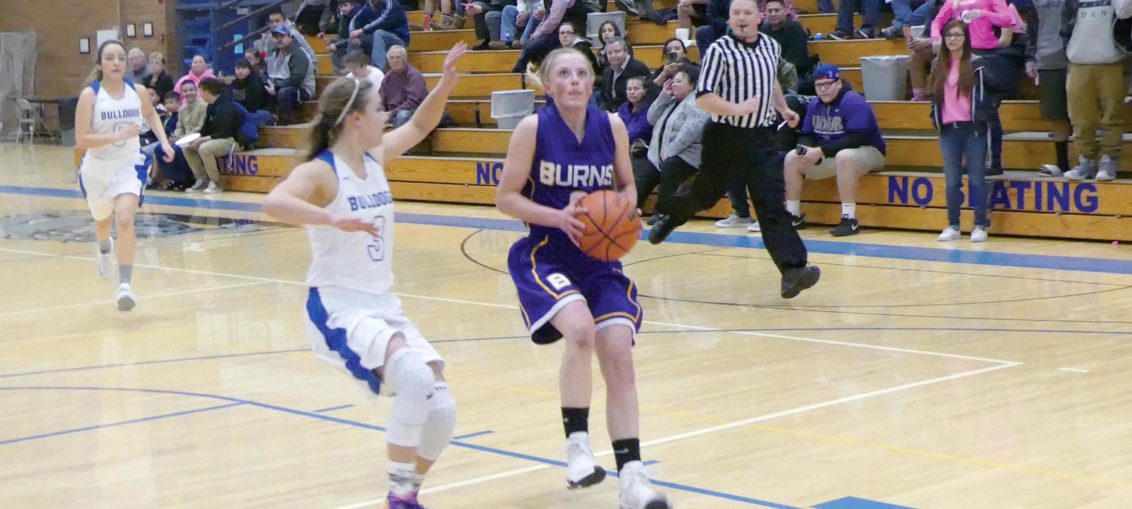 The Burns girls basketball team lost to Nyssa in the first round of the Eastern Oregon League (EOL)playoffs, but had a high enough ranking by the OSAA to qualify for the 3A girls state basketball tournament.
The Lady Hilanders placed third in the EOL with a 6-4 record (14-9 overall), and traveled to second-place Nyssa (7-3, 18-7) on Feb. 14 for a first round league playoff game.
The Bulldogs came out on top in the contest, edging Burns 40-39.
Nyssa then traveled to Vale (8-2, 18-5) on Feb. 17 to determine the top two seeds from the EOL on to the state tournament. The Bulldogs defeated the Vikings 37-34, giving them the No. 1 seed.
Despite the first-round loss, the Lady Hilanders picked up the at-large berth in the state tournament because of their No. 10 ranking by the OSAA. They will travel to Rainier on Saturday, Feb. 25, for a first round game.
The Columbians (14-2, 22-3) finished second in the Lewis & Clark League, but defeated Portland Adventist Academy 48-43 in the championship game of their league tournament. Rainier is ranked sixth by the OSAA going into the state playoffs.
The winner of the Burns-Rainier match-up will play the winner of the Coquille-Portland Christian contest in the first round of the final-eight bracket.
The final eight teams will play March 2-4 at Marshfield and North Bend high schools for the 3A girls state title.