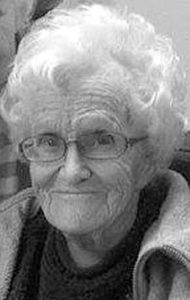 Ardean R. (Bobbie) Woodfin passed away peacefully Feb. 7, while surrounded by loved ones at St. Charles Medical Center in Bend.
Bobbie was born March 7, 1927, in Doris, Calif., to Robert Francis and Mary Mahala O'Farrell. She was the fourth of four girls born into this union and her dad so wanted a boy that they compromised by naming her after him. This may have been the one and only compromise that she was ever involved in.
A couple of years after Bobbie was born, the family relocated to Eastern Oregon where she attended schools in Burns and Baker City. After graduating from 8th grade, she quit school to begin working.
She met Dave Chism working with the YCCs at the age of 15, and they married and moved to High Bridge, Ky., where her first two sons, Dean and Mike Chism were born. This marriage ended four years later and Bobbie moved back to Burns where she met and married William Walter "Bill" Woodfin on May 8, 1948. Bill and Bobbie were married for 51 years and had six children before he passed away in January 2000. Bobbie spent the rest of her life collecting and preparing for a "Yard Sale" that she had no intention of ever having and spending time with her kids and grandkids.
Bobbie had a tremendous work ethic and worked every day to improve her and her family's sense of well-being and self-worth.  She had the heart of a champion and instilled a competitive winning aspect to many things in her and her children's lives.  She was an avid high school wrestling fan and supporter and referred to Burns High School wrestlers as "her kids".  She followed her wrestlers and cheered them on to the end.
Bobbie is survived by her sons, Dean Chism of Nicholasville, Ky., Jim and wife, Kathy Woodfin of Kennewick, Wash.; daughter, Christy Ardean Woodfin of Riggins, Idaho; special granddaughter, Mary'o Courts and her family of Bend, who provided much love and care for Bobbie in her later years; and special friend and neighbor, Marvin Hillman, who always kept an eye on her and assisted her when she was home in Burns. Also, 10 grandchildren and 16 great-grandchildren.
Bobbie was preceded in death by her parents, Bob and Mahala O'Farrell; sisters, Mildred Greene, Shirley Burtch, Sharon O'Farrell;  husband, Bill Woodfin; and children, Mike Chism, William Clayton Woodfin, Mary Louise Carriquirry, Jerry O'Farrell Woodfin, and Sharon Arlene Woodfin.
A funeral service for Bobbie Woodfin was held Feb. 10  at LaFollette's Chapel in Burns, with internment at the Burns Cemetery. Contributions in memory of Bobbie Woodfin may be made to the Burns High School wrestling program, in care of LaFollette's Chapel.